How Compass Memory Support's Holistic Approach Helped Anne Thrive 
Anne's family watched their mother's mood grow increasingly negative and often agitated, stemming from the lack of care she was receiving.
Anne*, age 91 and living with dementia was living at a memory care community where a lack of personal care and broken promises to Anne and her family started to have a negative affect on Anne's mood. 
Anne's daughter Paula remembers, "There was a request that my mother be able to skype with her son who lives far away. We are a very close family and this would mean a lot to my mother. She was never given that opportunity." 
After increased concern for their mother's care, Paula moved Anne to a Senior Living Residences' Compass Memory Support Neighborhood®. Gina Hayworth, SLR Resident Care Director remembers Anne's first days at the community, "Anne was mean to staff and residents, but we knew that was due to the lack of personal attention and trust in Anne's past situation, we had to give Anne what she was missing."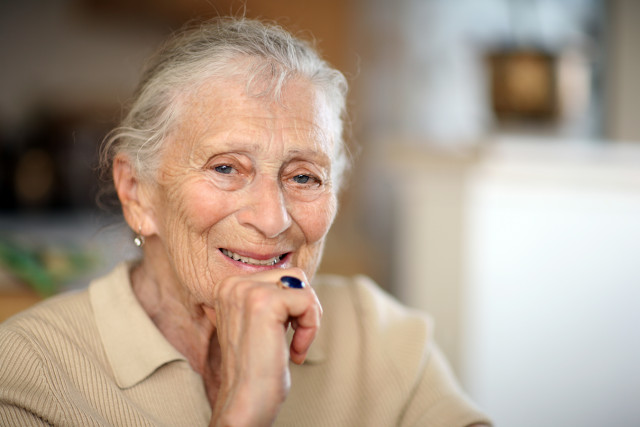 *To protect privacy, names and photos are not actual.
SLR's Whole Person Treatment Approach
Through Compass' holistic approach which combines research-based programming with meaningful opportunities for socialization and self expression, and a personalized care plan, Anne soon started to thrive. Along with improved hygiene, Anne's attitude started to improve. Given Anne's background in education, SLR Compass Program Director Mary Wilkinson encouraged Anne to attend Reconnections, an adult learning program built on research that cognitive stimulation may slow the progression of Alzheimer's disease and other related memory impairments.
Anne embraced this program and soon started to develop meaningful relationships with her peers. Hayworth notes, "Reconnections inspired Anne to do what she desired, to learn something new every day."
Anne Today…
Now you can find Anne enjoying all of the day's programs, smiling and laughing with her fellow peers, and of course, skyping with her son. Paula is amazed by her mother's transformation, "This is the best move we could have ever made. We don't worry about our mother anymore. The staff has done everything they said they would do for our mom. That kind of integrity is hard to find."
*Names in case study have been changed to protect the privacy of resident
Compass Innovative Treatment Program
In combination, the research-based programs available for residents living in our Compass Neighborhoods® work to treat the symptoms of dementia and Alzheimer's disease and potentially slow their progression.
Award-Winning Brain Healthy Cooking Program
Programs to reduce hospitalizations and the use of antipsychotic medications
Resident Lifetime Achievement Award Program
Structured enrichment activities (morning through evening, 7 days/week) including:
Learn more about our Compass Memory Support daily programs   
Reducing Reliance on Medications
Our approach is to intimately get to know your loved one as an individual - his or her personality, past profession and lifestyle, and preferences for a daily routine. With this knowledge we can treat the symptoms of your loved one's disease with unique programming and redirection, rather than relying on medication. 
When new residents move into our community, we work with their doctors to establish a plan for weaning them off antipsychotic medications whenever possible. When behavioral challenges arise, our caregivers are trained in gentle techniques to redirect and comfort residents in ways that don't involve medications. This is different from other communities, where medications are often used as interventions. The American Healthcare Association has identified the reduction of antipsychotic medications as a priority. We are also committed to this goal.