Gracious Assisted Living and Memory Support in Brookline
Goddard House Assisted Living in Brookline is committed to providing residents with a healthful, stimulating lifestyle and the perfect recipe of services delivered with the kindness and compassion that inspired its founding over a century ago. This vibrant and innovative community offers both traditional assisted living and memory care in an exquisite setting just outside of the city, along Boston's Emerald Necklace park system.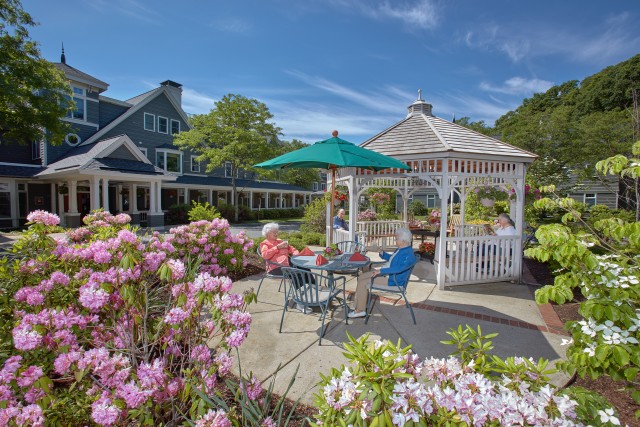 Serving the Local Community
Goddard House Assisted Living and Memory Support in Brookline is a not-for-profit organization serving elders in Massachusetts for more than 160 years and has been at the forefront of serving the needs of older adults in the Boston area since 1849 when it opened the first private, nonprofit home for elders in Massachusetts.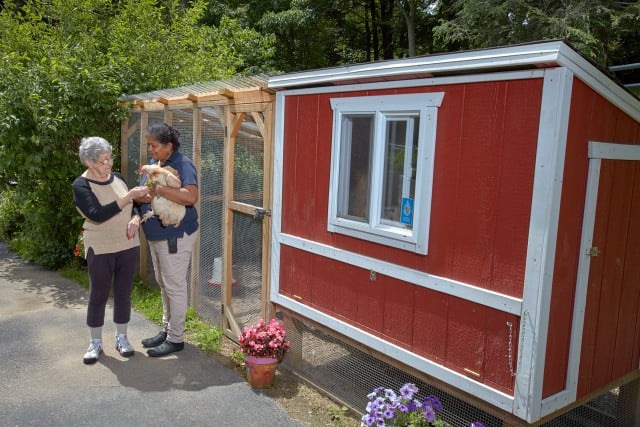 Goddard House serves local seniors throughout Brookline, MA as well Newton, and the abutting Boston neighborhoods of Allston, Brighton, Jamaica Plain, Fenway–Kenmore, Mission Hill and West Roxbury. Whether you're looking for assisted living, memory support or a short-term respite stay, discover the Goddard House.
Brookline Assisted Living Community Residents Benefit from the Growing the Farm Program
The Goddard House Assisted Living and Memory Support community in Brookline uses chickens, local food and gardening activities to create a unique resident program that focuses on sensory experiences and the outdoors. Read full story in the Brookline TAB >>
Upcoming Events
"The Healing Power of Music Therapy" at Goddard House
November 7th | 6:00-7:30 pm
Dr. Suzanne Hanser will present, "The Healing Power of Music Therapy." Music is sometimes thought of as a fountain of youth for older adults. Research demonstrates that music, when guided by a qualified therapist, can help individuals communicate, express themselves, relive meaningful memories, and regulate emotions. Dr. Hanser will guide us through some music-based interventions designed to enhance quality of life, regardless of age or ability.
Public welcome! RSVP to pbarrows@goddardhouse.org or 617-731-8500.
"At Goddard House, we are committed to serving our residents, their families and the larger community. Come visit us for lunch, and we'll talk about all available senior living options."
-- Carolyn Sandel, Executive Director 
| | |
| --- | --- |
| Goddard House is a not-for-profit 501 (c)(3) organization that offers assisted living. Although we receive private, federal, and state funds, these revenues do not cover the costs of enrichment programs that enhance the quality of life for our residents. Please consider a donation and learn more here >> | Donate |