Gracious Assisted Living and Memory Support in Brookline
Goddard House Assisted Living in Brookline is committed to providing residents with a healthful, stimulating lifestyle and the perfect recipe of services delivered with the kindness and compassion that inspired its founding over a century ago. This vibrant and innovative community offers both traditional assisted living and memory care in an exquisite setting just outside of the city, along Boston's Emerald Necklace park system.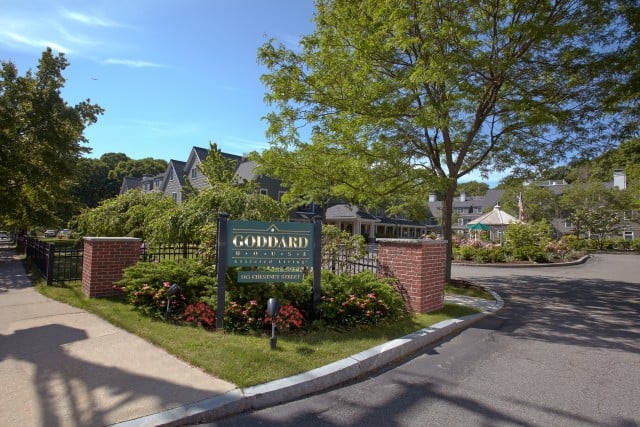 Serving the Local Community
Goddard House Assisted Living and Memory Support in Brookline is a not-for-profit organization serving elders in Massachusetts for more than 160 years and has been at the forefront of serving the needs of older adults in the Boston area since 1849 when it opened the first private, nonprofit home for elders in Massachusetts.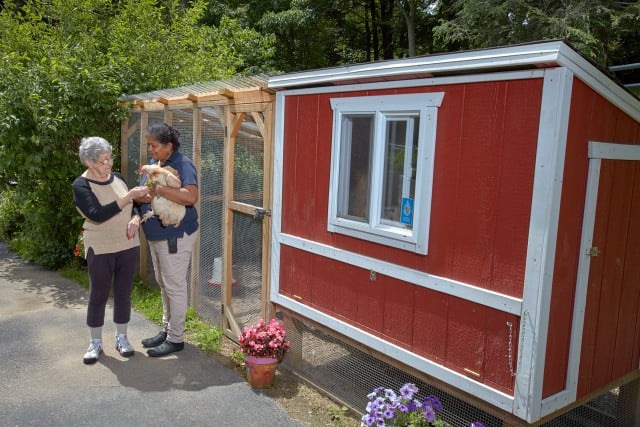 Goddard House serves local seniors throughout Brookline, MA as well Newton, and the abutting Boston neighborhoods of Allston, Brighton, Jamaica Plain, Fenway–Kenmore, Mission Hill and West Roxbury. Whether you're looking for assisted living, memory support or a short-term respite stay, discover the Goddard House.
Check Out What's Happening at Goddard House
Brookline Assisted Living Community Residents Benefit from the Growing the Farm Program
The Goddard House Assisted Living and Memory Support community in Brookline uses chickens, local food and gardening activities to create a unique resident program that focuses on sensory experiences and the outdoors. Read full story in the Brookline TAB >>
Upcoming Events
Ending Ageism
Thursday, April 19th  |  6:00 - 7:30 pm
Brookline Senior Center (93 Winchester St, Brookline, MA)
Join Margaret Morganroth Gullette in talking about the sudden onset of age-related shaming and why it is a serious obstacle to aging well. Margaret recently published the book Ending Ageism and hopes it sparks a movement where people share their experiences with age discrimination. For more information about this FREE event, view the Brookline Community Aging Network event flyer>>>
Indian Dance Performance at Goddard House
March 10th | 4:00 pm
Join us as students from Triveni School of Dance will perform classical Indian dance!
Jazz Guitarist Joe Weinberg at Goddard House
March 11th 3:30 pm
Join us for a performance by the locally renowned jazz guitarist Joe Weinberg. Often performing as a solo guitarist, Joe has been featured on television all over New England. He has also been featured as a guest on NPR Radio. Currently, Joe is a regular guest on "The Jordan Rich Show" on WBZ radio. Joe recently released his first solo album entitled, "Have Guitar, Will Travel!"
Opening Minds through Art Artists' Reception at Goddard House
March 17th | 3:00-4:30 pm
All are welcome to attend our Opening Minds through Art (OMA) Artists' Reception. Opening Minds through Art (OMA) is an art program that is founded on the principle that people who are living with dementia are highly capable of creative expression. Come and meet the Goddard House artists who will be showing their work in Gallery M at Goddard House!
"Science!" With Tim Miller at Goddard House
March 23rd | 10:00 am
Join Tim Miller in the Library for an informative discussion about recent advances in science. Topics will range from new technologies to space travel and everything in between!
Patrice Monahan Trio Performs at Goddard House
March 25th | 3:30 pm
Join us for infectious melodies and percussive grooves with the Patrice Monahan Trio. Together since 2009, the group brings their confident enthusiastic rhythm section to many events. Performing will be Patrice on piano and vocals, Tal Shalom-Kobi on bass, and Miki Matsuki on drums.
Celebrating the Mediterranean Diet: Talk & Tastings 

with Oldways and Taberna de Haro

Thursday, April 26th | 6:00-7:30 pm
Goddard House Assisted Living, 165 Chestnut Street, Brookline
Join us for a special presentation and discussion about the Mediterranean Diet! Presenters include Kelly Toups from Oldways and Deborah Hansen from Taberna de Haro in Brookline. Through our affiliation with Oldways, we have been able to build out our Brain Healthy Cooking Program, which adapts the Mediterranean Diet to fit seniors' lifestyle. Event is free of charge. RSVP to Jennifer Miller at jmiller@goddardhouse.org or 617.731.8500 x110. 
For more information, view this event flyer »  
---
| | |
| --- | --- |
| Goddard House is a not-for-profit 501 (c)(3) organization that offers assisted living. Although we receive private, federal, and state funds, these revenues do not cover the costs of enrichment programs that enhance the quality of life for our residents. Please consider a donation and learn more here >> | Donate |