Gracious Assisted Living and Memory Support in Brookline
Goddard House Assisted Living in Brookline is committed to providing residents with a healthful, stimulating lifestyle and the perfect recipe of services delivered with the kindness and compassion that inspired its founding over a century ago. This vibrant and innovative community offers both traditional assisted living and memory care in an exquisite setting just outside of the city, along Boston's Emerald Necklace park system.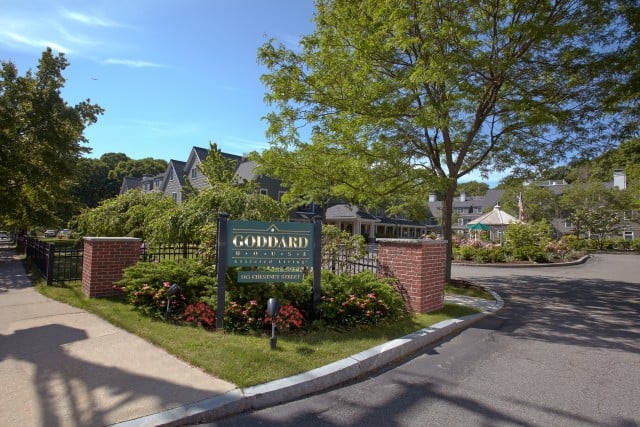 Serving the Local Community
Goddard House Assisted Living and Memory Support in Brookline is a not-for-profit organization serving elders in Massachusetts for more than 160 years and has been at the forefront of serving the needs of older adults in the Boston area since 1849 when it opened the first private, nonprofit home for elders in Massachusetts.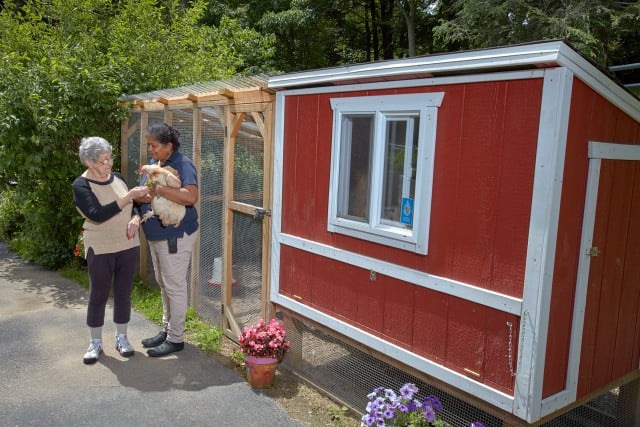 Goddard House serves local seniors throughout Brookline, MA as well Newton, and the abutting Boston neighborhoods of Allston, Brighton, Jamaica Plain, Fenway–Kenmore, Mission Hill and West Roxbury. Whether you're looking for assisted living, memory support or a short-term respite stay, discover the Goddard House.
Brookline Assisted Living Community Residents Benefit from the Growing the Farm Program
The Goddard House Assisted Living and Memory Support community in Brookline uses chickens, local food and gardening activities to create a unique resident program that focuses on sensory experiences and the outdoors. Read full story in the Brookline TAB >>
Upcoming Events
SPARK and GO WILD for Healthy Aging Lecture and Book Signing
Tuesday, December 5th  |  6 – 7:30 p.m.
Brookline Senior Center
Best-selling author, John J. Ratey, MD, is an Associate Clinical Professor of Psychiatry at Harvard Medical School and an internationally recognized expert in Neuropsychiatry. He has published over 60 peer-reviewed articles, and 11 books. With the publication of "Spark-The Revolutionary New Science of Exercise and the Brain," Dr. Ratey has established himself as one of the world's foremost authorities on the brain-fitness connection. Free of Charge. Learn more. 
Please call 617-730-2770 to register.
Pianist Mark Tavenner Performs at Goddard House
December 9th  |  7:00 pm
Mark Tavenner started piano lessons at age 11 and graduated with a degree in Music from Texas Tech University in 1977, then attended Berklee College of Music in 1983-84. Now he regularly entertains at assisted living communities in the Boston area performing live piano, keyboard, and vocal music in various styles such as Swing, Polka, Waltz, Latin and plays songs from all over the world.
Stillhouse Down Comes to Goddard House
December 10th  |  3:30 pm
Join us for a performance by 5-piece Bluegrass band Stillhouse Down.
Menorah Lighting at Goddard House
December 12th  |  4:30 pm
Join us as we begin Hanukkah with a lighting of the menorah and prayers with Roberta Gross-Torres.
Erik Gustafson Performs at Goddard House
December 17th  |  3:30 pm
Erik is an American composer who has written for numerous occasions and for diverse performing forces. Alongside completing over one hundred works, Erik has also completed five commissions within the past two years. Erik has earned degrees in Music from Harvard College and Indiana University, and School of Music.
Pianist Adam Bergeron at Goddard House
December 18th  |  7:00 pm
Pianist/composer Adam Bergeron's passion is creating new sounds through his original music. After playing in rock bands for over a decade, he decided to blend the various influences he experienced while playing jazz, folk, hip-hop, reggae, rock and mental, and a multi-instrumentalist. Adam's solo performances feature his unique style of musical fusion, which may just change the way you appreciate music!
Vocalist Matt McCabe Entertains at Goddard House
December 31st  |  3:30 pm
Matthew is an accomplished and versatile singer with a distinctive tone and commanding stage presence who has worked professionally singing rock, pop, soul,
and musical theatre over the last 6 years.
Ending Ageism
Thursday, March 8th  |  6:00 - 7:30 pm
Hunneman Hall, Brookline Public Library
Join Margaret Morganroth Gullette in talking about the sudden onset of age-related shaming and why it is a serious obstacle to aging well. Margaret recently published the book Ending Ageism and hopes it sparks a movement where people share their experiences with age discrimination. For more information, view the Brookline Community Aging Network event flyer>>>

---
| | |
| --- | --- |
| Goddard House is a not-for-profit 501 (c)(3) organization that offers assisted living. Although we receive private, federal, and state funds, these revenues do not cover the costs of enrichment programs that enhance the quality of life for our residents. Please consider a donation and learn more here >> | Donate |