Gracious Assisted Living and Memory Support in Brookline
Goddard House Assisted Living in Brookline is committed to providing residents with a healthful, stimulating lifestyle and the perfect recipe of services delivered with the kindness and compassion that inspired its founding over a century ago. This vibrant and innovative community offers both traditional assisted living and memory care in an exquisite setting just outside of the city, along Boston's Emerald Necklace park system.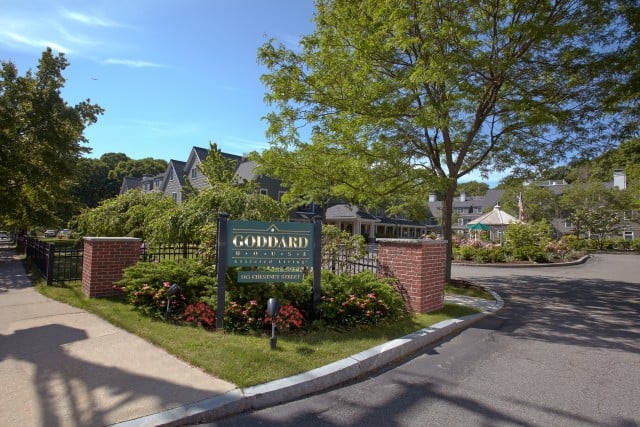 Serving the Local Community
Goddard House Assisted Living and Memory Support in Brookline is a not-for-profit organization serving elders in Massachusetts for more than 160 years and has been at the forefront of serving the needs of older adults in the Boston area since 1849 when it opened the first private, nonprofit home for elders in Massachusetts.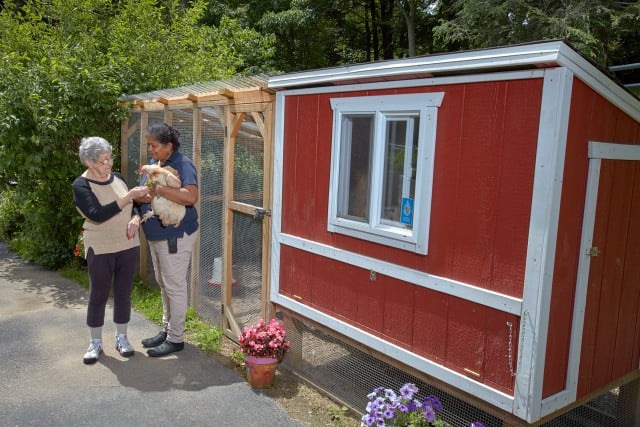 Goddard House serves local seniors throughout Brookline, MA as well Newton, and the abutting Boston neighborhoods of Allston, Brighton, Jamaica Plain, Fenway–Kenmore, Mission Hill and West Roxbury. Whether you're looking for assisted living, memory support or a short-term respite stay, discover the Goddard House.
Brookline Assisted Living Community Residents Benefit from the Growing the Farm Program
The Goddard House Assisted Living and Memory Support community in Brookline uses chickens, local food and gardening activities to create a unique resident program that focuses on sensory experiences and the outdoors. Read full story in the Brookline TAB >>
Join us for our 4th Annual "Cookin' Up Jazz" Concert Series
The Hot Club of New England
Thursday, August 10th | 6:00 - 8:00pm
The Hot Club of New England is a musical collective featuring the top swing, gypsy, and hot jazz musicians in the New England area. HCNE is on a mission to bring the elegant and classic style of the swing era and the roaring 20's to a modern audience.
Cassandra McKinley 
Thursday, August 17th | 6-8pm
McKinley is best known for her powerhouse voice and stylistic versatility and ability to cross genres effortlessly. After self-releasing several favorable straight-ahead jazz albums, McKinley drew from deeper influences of her youth and revealed a more "soulful" sounding jazz album in remembrance of the late Marvin Gaye.
Claudia Eliaza 
Thursday, August 24th | 6-8pm
Claudia Eliaza is an exuberant songstress with a fragrantly rich voice that captivates her audience at large. Claudia's style draws from the deep legacy of Jazz, Blues, Gospel, Funk, Haitian, Latin and African rhythms.
The Winikers 
Thursday, August 31st | 6-8pm
Bill Winiker, Neil Greene, & Bo Winiker have been performing together for several decades. This group is dedicated to performing music from the turn of the 20th century to the present day. Their performances are fun, uplifting, electrifying and promise to put a smile on your face!
---
| | |
| --- | --- |
| Goddard House is a not-for-profit 501 (c)(3) organization that offers assisted living. Although we receive private, federal, and state funds, these revenues do not cover the costs of enrichment programs that enhance the quality of life for our residents. Please consider a donation and learn more here >> | Donate |