Gracious Assisted Living and Memory Support in Brookline
Goddard House Assisted Living in Brookline is committed to providing residents with a healthful, stimulating lifestyle and the perfect recipe of services delivered with the kindness and compassion that inspired its founding over a century ago. This vibrant and innovative community offers both traditional assisted living and memory care in an exquisite setting just outside of the city, along Boston's Emerald Necklace park system.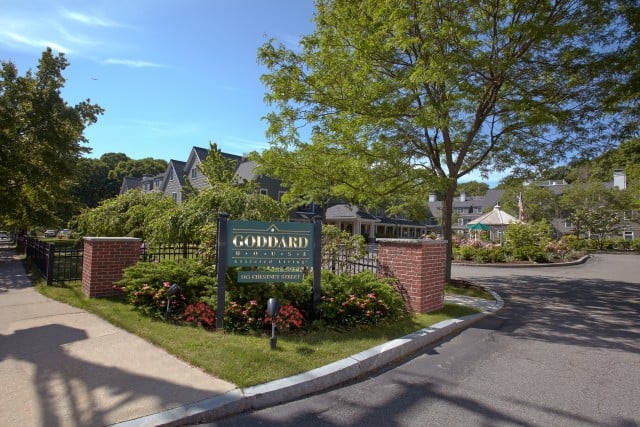 Serving the Local Community
Goddard House Assisted Living and Memory Support in Brookline is a not-for-profit organization serving elders in Massachusetts for more than 160 years and has been at the forefront of serving the needs of older adults in the Boston area since 1849 when it opened the first private, nonprofit home for elders in Massachusetts.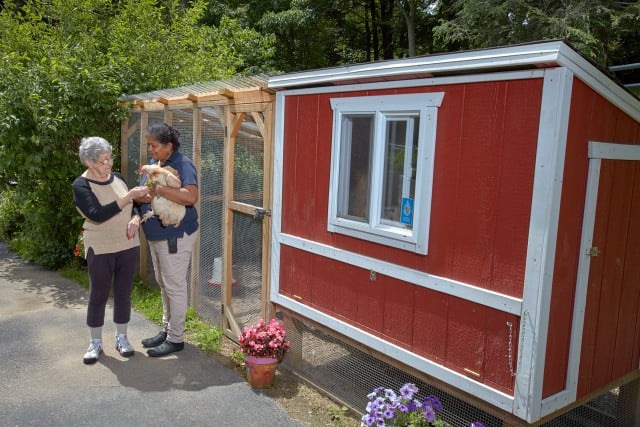 Goddard House serves local seniors throughout Brookline, MA as well Newton, and the abutting Boston neighborhoods of Allston, Brighton, Jamaica Plain, Fenway–Kenmore, Mission Hill and West Roxbury. Whether you're looking for assisted living, memory support or a short-term respite stay, discover the Goddard House.
Brookline Assisted Living Community Residents Benefit from the Growing the Farm Program
The Goddard House Assisted Living and Memory Support community in Brookline uses chickens, local food and gardening activities to create a unique resident program that focuses on sensory experiences and the outdoors. Read full story in the Brookline TAB >>
Upcoming Events
Job Fair at Goddard House
May 23rd | 11:00 am
Interested in working in Assisted Living? Join us for an opportunity to meet experienced leaders in senior care and possibly get an on-site interview! We are now hiring for:
Resident Care Director
Waitstaff 
Cooks 
CNAs
Nurses
If interested, reach out to Dayshel Reid at dreid@goddardhouse.org or 617.731.8500 for more information. 
State Representative Jeffrey Sánchez to Speak at Goddard House
May 18th | 3:30 pm
Join us as we celebrate Older Americans Month with a visit from our Massachusetts State Representative, House Ways and Means Chairman, Jeffrey Sánchez. Representative Sánchez will offer an overview of current legislation on Beacon Hill and lead discussion around issues of importance to older adults in the Commonwealth.
Updating
The New Old Age
with Paula Span
Thursday, May 24th | 6:00pm - 7:30pm
Brookline Senior Center, 93 Winchester Street, Brookline, MA 02446
We're happy to announce that Paula Span is coming to the Brookline Senior Center to discuss trends, opportunities, and challenges in aging. A reporter and columnist for the New York Times, Paula was chosen as one of PBS Next Avenue's 2017 Top 50 Influencers in Aging. She has been writing The New Old Age, an NYT blog and column on issues of aging and caregiving, since 2009. This event is FREE and open to the public! Please call 617-730-2770 to register. For more information, view this event flyer »
Keun Young Sun Duo Performs at Goddard House
May 27th | 3:30 pm
Join us for a performance by Keun Young Sun Duo on violin and piano!
"At Goddard House, we are committed to serving our residents, their families and the larger community. Come visit us for lunch, and we'll talk about all available senior living options."
-- Carolyn Sandel, Executive Director 
| | |
| --- | --- |
| Goddard House is a not-for-profit 501 (c)(3) organization that offers assisted living. Although we receive private, federal, and state funds, these revenues do not cover the costs of enrichment programs that enhance the quality of life for our residents. Please consider a donation and learn more here >> | Donate |