Welcome to Heights Crossing Assisted Living and Compass Memory Support
At Heights Crossing, we've mastered the art of living well! We offer the highest quality Assisted Living and a state-of-the-art Memory Support Neighborhood.
We work hard to make every corner of the residence feel like your home, including our common areas. We've designed for gracious country living inside and out, including beautiful landscaping, courtyards, balconies and patios for private gatherings. Indoors, there are lots of homey nooks for reading, visiting or relaxing, including our library with a gas fireplace. The pub has another great fireplace and a large high-definition TV. It's a popular place to watch a ball game and enjoy a cup of coffee. And our piano lounge area has proven to be a great gathering spot with friends before mealtime.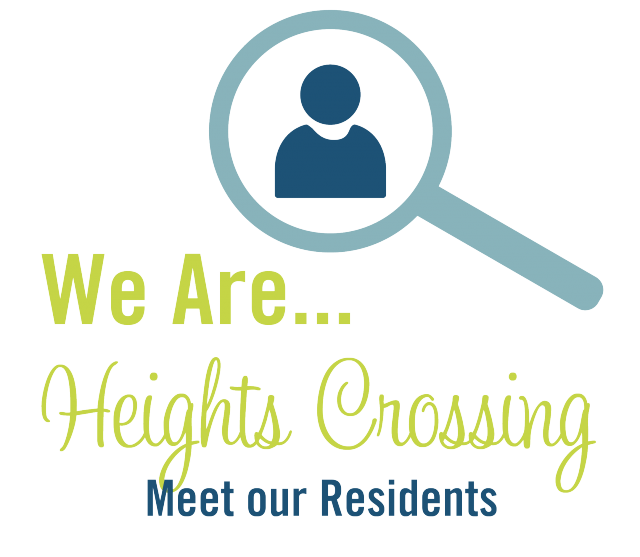 With a full range of social events and activities, there's always something going on. That includes movies every night in our cinema (both first-run and timeless classics), lectures and educational programs in our Arts and Media center, daily fitness classes, art classes, book clubs, and card games, plus live entertainment almost every week in the lounge. Not to mention wireless Internet access, high-definition televisions and Wii interactive video games in our lounges. We also host group trips such as a Charles River Cruise and concerts at Nantasket Beach. The hardest part is choosing what to do first!
Height Crossing hosts several special events throughout the year including our annual Antique Auto Show and frequent barbecues. The Mayor's Summer Concert Series and our Casino Nights are resident favorites. And our annual holiday party for residents and families is another not-to-be-missed favorite event. 
Your Heights Crossing Home
Our Assisted Living apartments are quite spacious and you can furnish and decorate however you choose! We offer studio, one bedroom and two bedroom apartments that all offer privacy, independence, and security. Each residence features wall to wall carpeting, large closets, a kitchen with lots of storage, private bathroom, and emergency call system. Most apartments also have high ceilings and large bay windows, so you can enjoy the sunshine and changing seasons.
Since the kitchen is an integral part of any home, we have included elements like stainless steel appliances and plenty of cabinet space to make it feel more homey. Just as important is the bathroom, which has a walk-in shower with sturdy grab bars, a non-slip floor surface, and a heat lamp for added comfort. Every apartment has privately controlled heat and air conditioning for your comfort, and our entire community has wireless access so you can connect to email and the internet anywhere! 
Located Right off Route 24
We are conveniently located on the Brockton/Stoughton line with easy access to Rt. 24. 
From Route 24 (North or South): Take Exit 18A (route 27 Brockton). At the first set of lights, turn right onto Christy's Drive, and then turn right onto Christy's Place. Heights Crossing is located on the right.
Community News
Knitting by feel, a blind woman makes hats for Brockton babies
Brockton Hospital recognized Dorothea Aronson, current resident at Heights Crossing, for knitting dozens of hats for children born at the hospital. Nurses presented the knitter with a certificate, thanking her for her dedication to keeping Brockton babies warm. Read more from the Brockton Enterprise »
Heights Crossing Recognized as #1 in Brockton
Heights Crossing Assisted Living has been named #1 in Brockton for Best Retirement Living Residence in the 2018 Readers Choice Awards, as well as an Honorable Mention for Best Assisted Living Community. These awards are determined by the voices of local Brockton area residents voting for the companies, products and organizations that they hold in the highest regard. Read more about this achievement »
Heights Crossing Joins the Senior Living Residences Family 
The team at Heights Crossing is very excited to join such an innovative organization as Senior Living Residences and the network of assisted living and memory support communities managed by them. Learn more about Senior Living Residences »

Heights Crossing Resident Remembers a Hero
Joyce Mekelburg relives the famous nightclub fire that occurred 75 years ago at the Cocoanut Grove nightclub. Joyce's boyfriend at the time, Justin Morgan, helped get Joyce to safety but tragically did not survive. Though only 18 at the time of the fire, Joyce remembers the event vividly and hopes to honor Justin's heroism, if only by saying his name. Read more in the Boston Herald >>
"At Heights Crossing, we aim to create the best possible living environment for our residents, regardless of where they are on the continuum of care. We invite you to drop in for a tour and see if we are the right fit for you or your loved one." 
-- Peter McConnell, Executive Director