Methuen Village Assisted Living and Compass Memory Support
Methuen Village at Riverwalk Park offers local seniors service-enriched Assisted Living and a secure residential Compass Memory Support Neighborhood for those with Alzheimer's disease and related dementias. Our community features gracious accommodations and many amenities at reasonable monthly rates. Residents receive individualized attention and catered assistance from a professional and caring staff. Supportive services are tailored for individual needs, including personal care, medication management, delicious meals featuring selections from our Brain Healthy Cooking menu, life long learning programs, cultural enrichment and wellness programs, housekeeping, and more!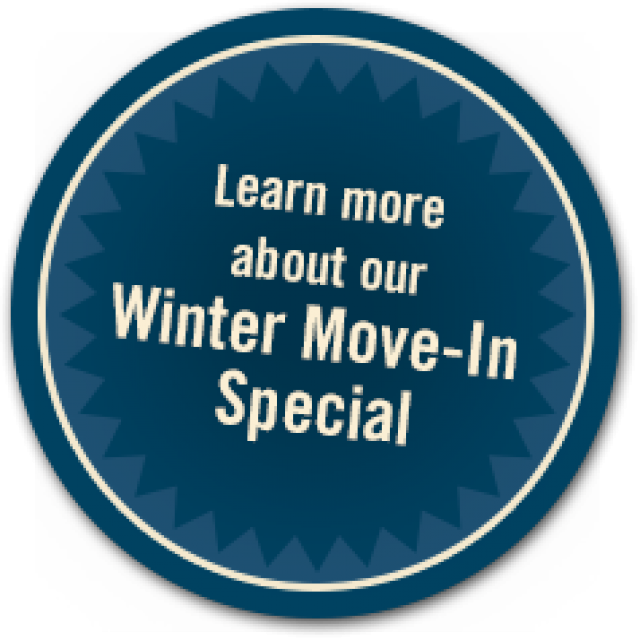 Methuen Village is located just off the hustle and bustle of Broadway at the end of Gleason Street, a small cul-de-sac. It is nestled among acres of natural beauty with lovely woodlands, the Riverwalk Park and the Spicket River abutting three sides of the development. Most of the community rooms and many apartments have lovely views of the natural surroundings. While residents benefit from a convenient "in town" location within easy walking distance to shops and restaurants, they also will enjoy this quiet, idyllic setting.
Community News
Methuen Village teams with Mother Connection for Santa Meet and Greet
Methuen Village regularly works with Andover, MA nonprofit The Mother Connection to bring intergenerational programs to the community. This year they really got into the holiday spirit. Read more in the Lawrence Eagle Tribune
Methuen Assisted Living Community Raises $6K for Alzheimer's Association
Methuen Village Assisted Living and Compass Memory Support recently hosted their annual Casino Night, an evening of spectacular food and games, to support a cause. This year, all proceeds were donated directly to the Alzheimer's Association, Massachusetts/New Hampshire Chapter. Read More in the Valley Patriot
Molly Schaus, Olympic goalie makes stop at Methuen Village
U.S. Women's Ice Hockey goalie Molly Schaus visited residents yesterday at the assisted living complex. Read More at EagleTribune.com
April Events
Vocalist Russ McQueen Performs
April 11th  |  2:00pm
Join us for a performance by Russ McQueen, whose vocal repertoire includes classic oldies, swing, pop, and country!
Japanese Cultural Celebration at Methuen Village
April 26th  |  2:00pm
Our monthly "Grab Your Passport!" program will take us to Japan, where we will delight in a traditional Japanese dance performance by Michiko Kurata. Trained in "Kabuki buyo," a popular dance form derived from Kabuki, Michiko has performed solo at major theaters such as the National Theatre and the Kabukiza Theatre in Tokyo before coming to the U.S. Since then she has performed at cultural events at Brown University, her alma mater, and numerous other institutions. She has a master's degree in teaching from Tufts University and has been teaching high school world history, while also giving lectures on traditional Japanese dance and music at Boston area universities.
"Travel to this month's Grab Your Passport destination with us as we experience a country's culture through the arts, education and cuisine. Take a tour, enjoy some entertainment and immerse yourself in the culture of another country! Ask where we are headed next."
- Natasha Heimrath, Executive Director