Methuen Village Assisted Living and Compass Memory Support
Methuen Village at Riverwalk Park offers local seniors service-enriched Assisted Living and a secure residential Compass Memory Support Neighborhood for those with Alzheimer's disease and related dementias. Our community features gracious accommodations, numerous amenities, and expansive grounds with views of the Spicket River. Residents receive individualized attention and catered assistance from a professional and caring staff. Supportive services are tailored for individual needs. The needs include personal care, medication management, delicious meals featuring selections from our Brain Healthy Cooking menu, life long learning programs, cultural enrichment and wellness programs, housekeeping, and more!
Methuen Village is located in the city's Historic District, at the end of Gleason Street, a small cul-de-sac just off the hustle and bustle of Broadway. It is nestled among acres of natural beauty and is bordered on three sides by lovely woodlands, Riverwalk Park and the Spicket River. Many apartments and most of the community's spacious common areas have lovely views of the river and park. While residents benefit from a convenient "in town" location with easy walking distance to shops and restaurants, they also will enjoy this quiet, idyllic setting.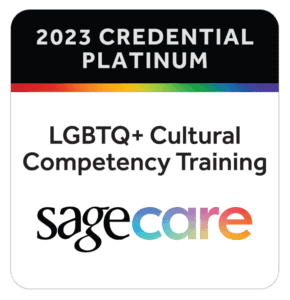 Methuen Village has worked with SAGECare (Services & Advocacy for GLBT Elders) in training our staff to better understand the unique cultures and needs of LGBTQ seniors. We are proud to have reached the highest available credential. Learn more about this initiative here.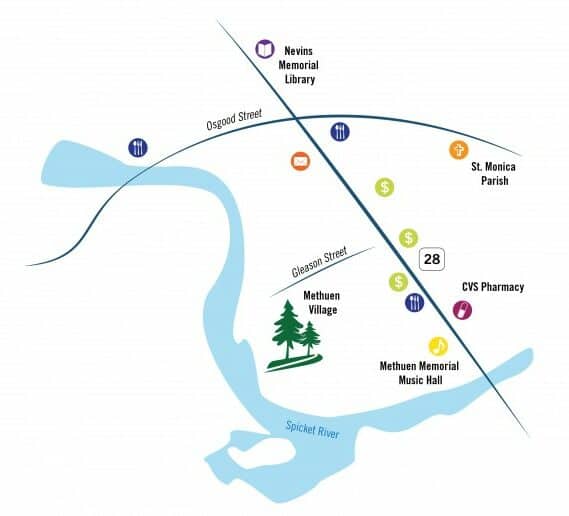 Consider a Short-Term or Trial Stay
Based on our years of experience in the senior care industry, we know many seniors and their families turn to a short-term or trial stay for various reasons—whether a caregiver needs a break, family is going away on vacation, or a senior is recovering from a recent hospitalization or rehab stay. At Methuen Village, we offer a unique trial stay program with NO MINIMUM LENGTH. This means someone can stay at our community for the weekend, or for two months, depending on what they truly need. Call us at 978.685.2220 to learn more about the benefits of this program and see if it makes sense for you or your loved one.
Take a Step Inside Methuen Village Assisted Living
Guiding Families Through their Research Process
Understanding all of your options when it comes to senior living can be confusing, whether you are new to the process or been through it before. We've created a comprehensive list of articles and tools to help families decide if assisted living is the right move.
Sign up for our e-newsletter!