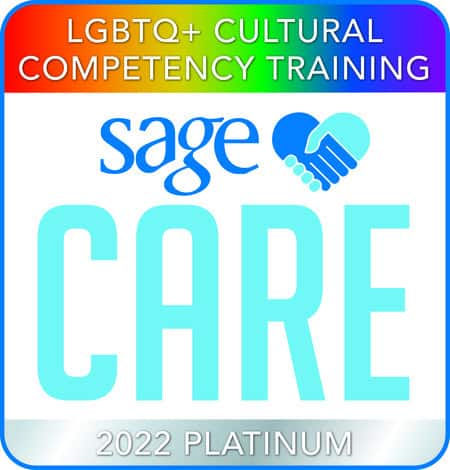 Farmington Station has achieved the Platinum accreditation level from SAGECare, an organization that provides LGBT Cultural Competency training and consulting to service providers. Earning a credential through SAGECare demonstrates that at least 80% of Farmington Station's staff have gone through training to enhance service and support older LGBTQ adults.
SAGECare is a division of SAGE, the country's oldest and largest non-profit organization dedicated to improving the lives of LGBTQ older adults. The accreditation process involved an in-person training geared toward Farmington Station's team of managers, coupled with a training module for their frontline associates.
The program gave associates a fresh perspective on a variety of issues, needs and concerns surrounding the aging LGBTQ population, helping them to maintain an inclusive, welcoming assisted living community. This education takes into account the different experiences and perspectives that LGBTQ residents bring to the table, especially how they may be hesitant to accept much needed care services.
Farmington Station and SAGECare will continue to collaborate in order to ensure LGBTQ residents, families and associates feel comfortable sharing and celebrating who they are. It is estimated that there are currently around 3 million LGBTQ older adults in the U.S., and that number is expected to grow to around 7 million by 2030 (SAGECare).
To learn more about SAGECare, visit their website.