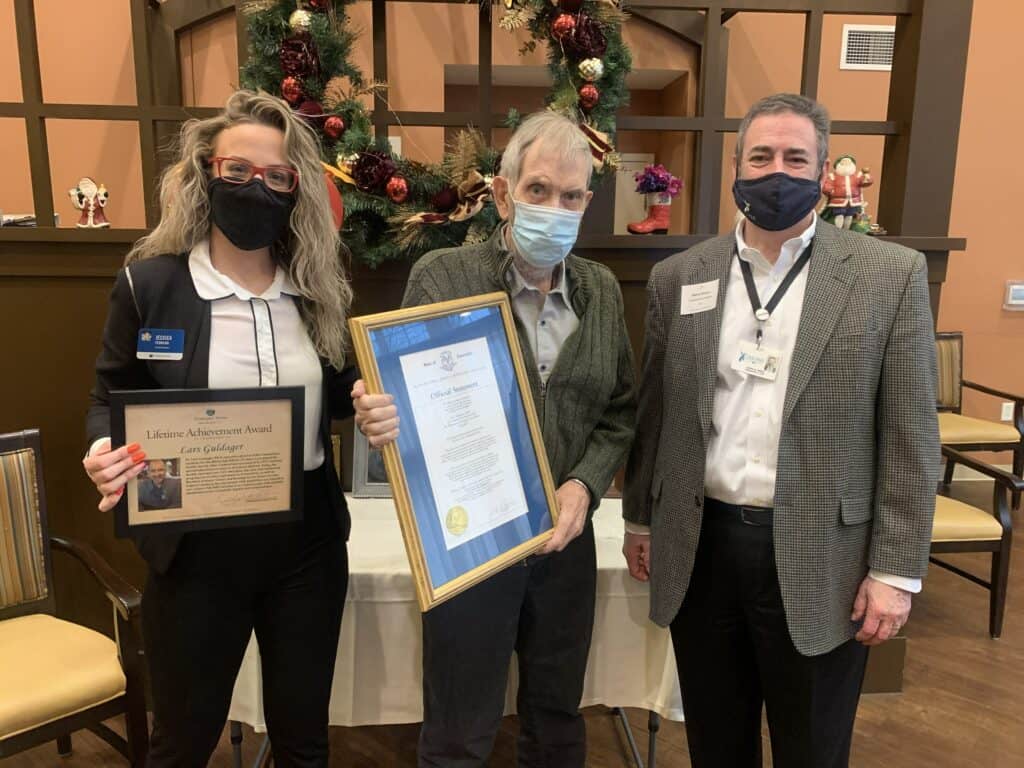 On December 22nd, Dr. Lars Guldager received a special Lifetime Achievement Award from Farmington Station, the Assisted Living and Memory Support Community that he calls home. Staff, family members and special community guests participated in the award ceremony (both in-person and virtually) that highlighted Guldager's life story and professional achievements.
Born in Jutland, Denmark, Lars served as Executive Director of the Connecticut Institute for the Blind (also known as Oak Hill School) for 25 years. Lars joined the facility shortly after a federal law was passed in 1976 mandating state-provided special education services to all children. CIB/Oak Hill has evolved from a nursery school for blind children to a statewide provider of community-based educational, vocational and residential programs for both children and adults. While at the organization's helm, Guldager helped transform the way people with disabilities are viewed and treated, empowering people with multiple disabilities to live with pride, dignity and independence.
Jess Ferreira, Farmington Station's Executive Director, explained the Lifetime Achievement Award by saying "Too many seniors in our society become anonymous even to their own neighbors, but at Farmington Station we make it a point to learn all we can about our residents and their families, and to highlight what makes them special. As Lars spent most of his life caring for others, it was his turn to be recognized."
Today, Oak Hill operates over 125 education, day-care and residential programs in 55 cities and towns in Connecticut, as well as Hartford Artisans' Center and housing for the blind. More information can be found at www.OakHillCT.org.
Farmington Station offers Assisted Living services and a secure Compass Memory Support Neighborhood for those with Alzheimer's and dementia. For more information, visit www.FarmingtonSLR.com.