Standish Village Assisted Living Serving Randolph, MA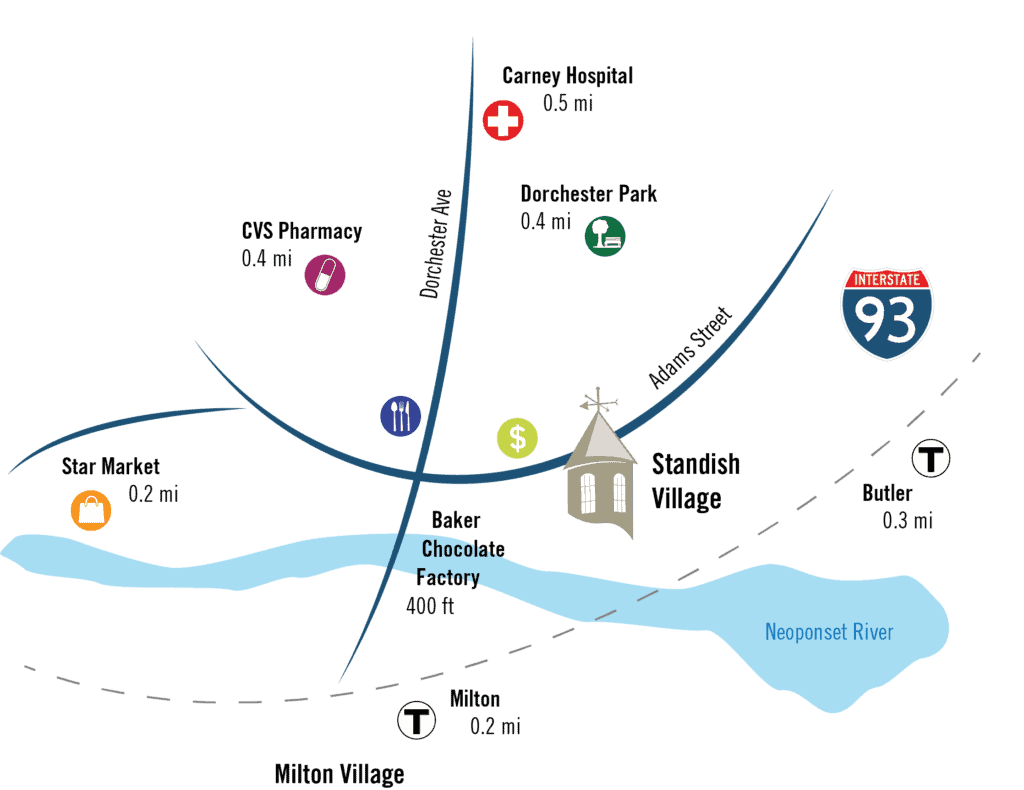 With a prime location less than 10 miles from Randolph, Standish Village residents have it all. Our bustling neighborhood sits along the Neponset River and features an exciting range of local restaurants and businesses. The community itself is a renovation of the Fabreeka Mills Textile Factory. Standish Village provides enriched Assisted Living programs as well as a secure Compass Memory Support Neighborhood® for those with Alzheimer's and related dementia.
Standish Village also offers apartment-style living, allowing residents to have the privacy of independent living in addition to the connections, socialization, and belonging that only a senior community can provide. In addition to drawing some families from Randolph, our residents enjoy trips to the Randolph Dairy Barn each summer for a sweet treat on a sunny day, along with performances from the Randolph Community Band.
Take a Peek Inside the Recently Renovated Standish Village
What Makes Standish the Perfect Choice for Randolph Seniors?
Residents spend their days how they want — making new friends and enjoying exciting programs that inspire curiosity, encourage social connection and promote independence.

At each meal in our restaurant-style dining room, residents' taste buds are awakened, choosing from a fresh & healthy menu of dishes crafted by our own Chef.

Those with Alzheimer's or dementia benefit from our renowned Compass Memory Support Neighborhood® offering extra care and evidence-based programming aimed at actually treating the symptoms of their cognitive impairment.

Try out our community with a short-term or trial stay option with "no minimum stay" required! Stay as long or as short as you need.

Standish Village has achieved Platinum through SAGECare's (Services & Advocacy for LGBTQ+ Elders) training program, as part of our ongoing commitment to welcome and support LGBTQ+ older adults.