Discover Standish Village at Lower Mills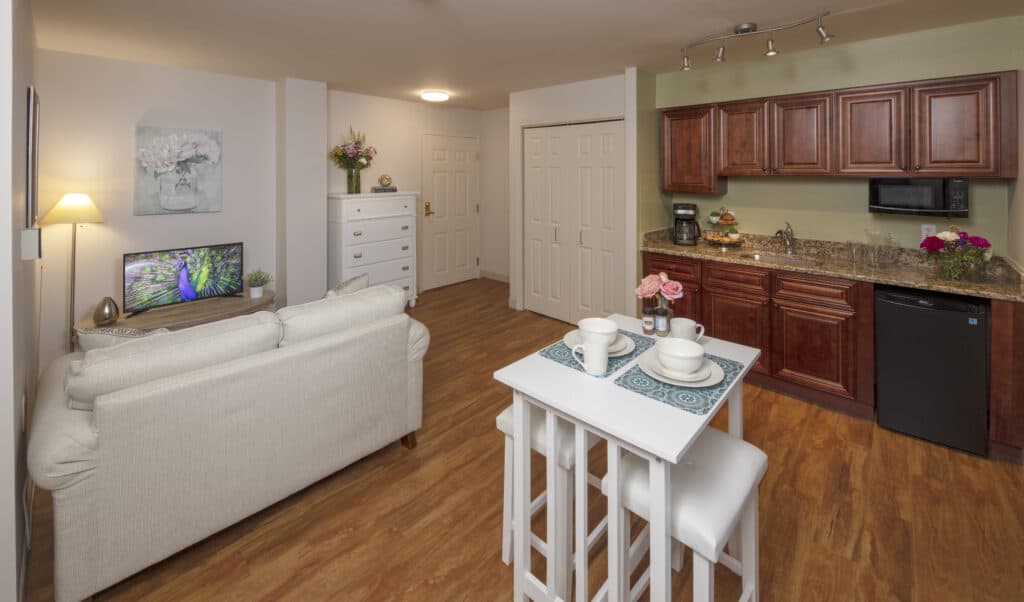 Your Assisted Living Apartment
---
Standish Village residents can choose from a companion suite, studio, one-bedroom or two-bedroom apartment, available in a variety of floor plans. Our community's one and two bedroom senior apartments are some of the largest in the area featuring unique layouts with high ceilings, oversized windows and granite countertops. Our neutral color palettes pair well with many furniture/design schemes. All of our assisted living apartments also offer kitchenettes with a microwave and fridge, an abundance of storage and large baths. Many of our apartments have views of the Neponset River or breathtaking cityscape.
Seek out new experiences, adventures and destinations!
---
Engaging with like-minded individuals on a variety of mutually shared interests and pursuits keeps things interesting. Don't call this an activities program – this is EnrichedLIFE at Standish Village! Every day you'll find something to do that nurtures some element of what makes you tick and helps you continue to grow as a person. We are fortunate to have an EnrichedLIFE Director who is also an Expressive Arts Therapist, so residents are always exposed to new programs and creative fun!
Pursue hobbies you love or try something completely new! Our popular programs include:
Headlines and Horoscopes
Blue Hills Choir
Poetry Slam Group
Discovery Learning Series
Monthly volunteer program
Fitness classes including yoga, stretch and fall prevention exercises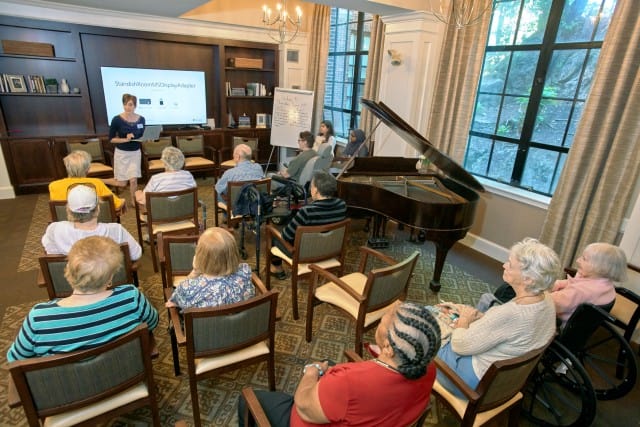 At Standish Village, it's all about the food!
---
Our own Executive Chef oversees a fine dining experience for each resident that features lots of variety, fresh healthy food sourced locally in season, warmhearted wait service, and taste-tested, resident approved menu selections.
All residents at Standish Village also get options from our award-winning Brain Healthy Cooking Program at every meal. Brain Healthy Cooking is based on the healthful Mediterranean diet, which has been scientifically proven to boost overall brain health and cognitive function. The program features dishes made with "brain healthy ingredients" that are incorporated into delicious recipes, including lots of fresh vegetables and fruits, whole grains, nuts, olive oil, eggs, lean meats, fish and seafood. These ingredients provide the body with potent antioxidants and nutrients with anti-inflammatory properties, essential to brain health. Eating a well-balanced diet has also been proven to promote heart health and is great for seniors managing diabetes. Ask our residents how delicious the food really is!
Treating The Symptoms Of Alzheimer's And Dementia To Enhance Quality Of Life
---
Some people believe that the difficult behaviors associated with Alzheimer's disease are best treated with medication. Not us. Our innovative programming treats the symptoms of dementia minimizing negative behaviors and potentially slowing the progression of the disease. Compass Memory Support® at Standish Village puts cutting-edge research into action through social engagement, lifelong learning, exercise and our award-winning Brain Healthy Cooking Program, nourishing the body, mind and spirit of our residents. Learn more about our Compass Memory Support NeighborhoodⓇ >>
Our affiliation with the BU Alzheimer's Disease Center (BUADC) provides expertise that is simply not found in other assisted living companies. BU clinicians and faculty provide training for our associates, work directly with us to help reduce resident hospitalizations, and offer opportunities to residents to participate in cutting-edge clinical research studies.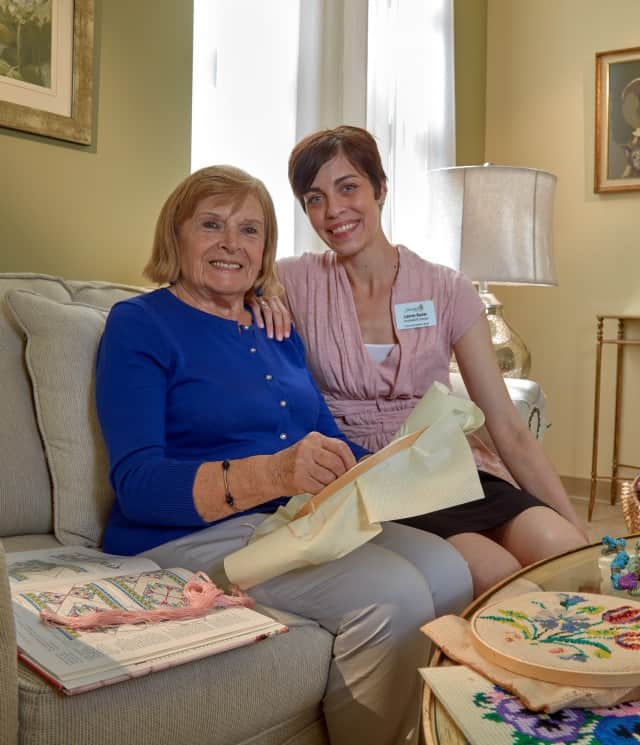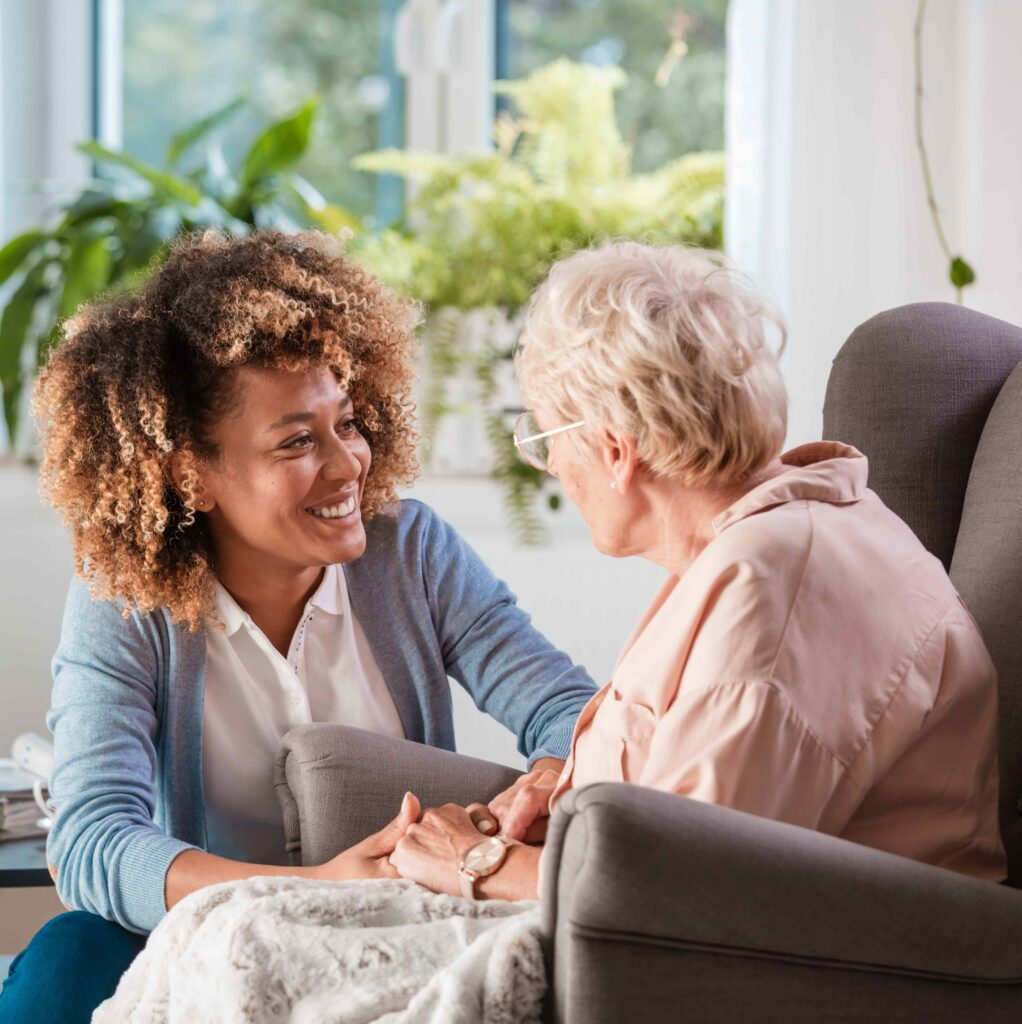 Can a short term or respite stay at Standish Village benefit your family?
---
EASE THE TRANSITION AFTER A HOSPITAL STAY. Reimbursement constraints usually control when seniors are released from hospital stay, even if home isn't the best option. A short-term stay at one of our communities can help reduce the gap and decrease the chances of rehospitalization.
GIVE A FAMILY CAREGIVER A REST. Our respite stay program means our team can take over caring for your loved one while you take time to recharge — Whether this be for business travel, vacation or simply because you need a break.
"TEST OUT" THE EXPERIENCE OF A NEW HOME. If your loved one is resistant to move into assisted living, feel free to utilize our unique, no minimum stay trial run to see if our community is a comfortable fit before moving your loved one.
Standish Village offers short-term respite stays in both our Assisted Living and our Compass Memory Support Neighborhoods. We have a unique "no minimum stay" policy that gives each family flexibility for their individual situation. Call us at 617-298-5656 to learn more.