Brockton, Middleboro and Lakeville Organizations Partner to Donate School Supplies to First Grade Class
MIDDLEBORO, MA — Kathy Hermanson, Director of Community Relations for Heights Crossing Assisted Living in Brockton, recently presented the Middleboro Verizon team with a thank-you poster for their generous contribution to the "Backpacks for Santa" initiative this past holiday season.
It all started with Shannon Hess, a first grade teacher at Lawrence Public, who used to volunteer at Heights Crossing Assisted Living. When Hess wanted to do something special for her students this past holiday season, Heights Crossing immediately wanted to get involved. They joined forces with Verizon in Middleboro to supply a backpack for each student in the class, filled with school supplies, winter garments, and an ornament and gingerbread cookie handmade by Heights Crossing residents, along with a book donated by the Lakeville Library.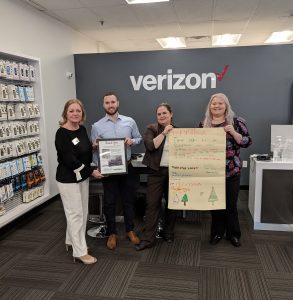 Pictured above: Kathy Hermanson (left) presents a thank-you plaque to (from left to right) Jordan, Verizon Sales Consultant, Erika, Sales Specialist, and Amanda, Verizon FIOS Specialist. Erika and Amanda hold up an additional poster made by a Lawrence first grade class, thanking Verizon for their contribution.