Discover Heights Crossing Assisted Living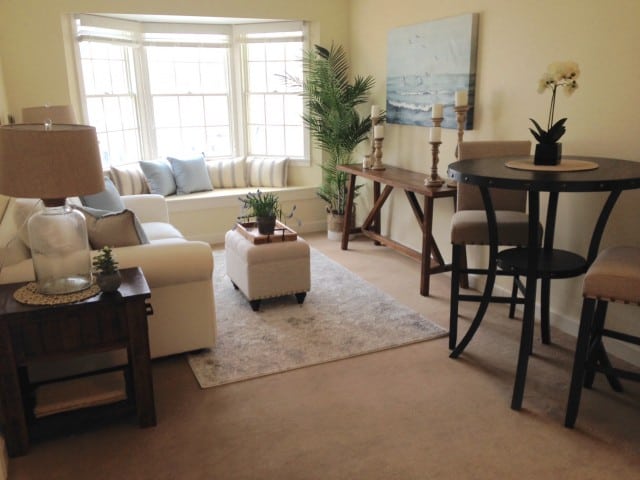 Your Heights Crossing Home
---
Our Assisted Living apartments are quite spacious and offer a neutral design palette you can easily customize with your own decor and furnishings to feel at home. Select between a private studio, one bedroom or two bedroom apartment or the option of a companion suite. We offer a variety of layouts and floor plans to choose from and each apartment is designed to enhance security and independence. Our apartments feature large windows letting in lots of natural light, carpeting, ample closet storage, a kitchenette with full-size refrigerator, private bathroom (in studio, 1bd & 2bd floor plans), and an emergency call system.
Heights Crossing has several cozy indoor spaces meant to encourage socialization and discovery, including a Card Room, Library with full bookshelves, Arts & Media Center with Apple computers, Cinema where we feature current and classic films, as well as a centrally-located Pub. When the weather allows, we also gather on our lovely and spacious back patio for community events or just to catch some rays.
Newly Renovated
Heights Crossing recently underwent major renovations, including new flooring in the main lobby, carpeting in community rooms, fresh coats of paint on both the exterior and interior, as well as updated furnishings. Come see our updated community for yourself!
Every day brings a new adventure!
---
At Heights Crossing, we believe that desire and ability to learn about new things does not stop with age. Our EnrichedLIFE program provides residents with a variety of daily activities and adventures of your choice – spanning from arts, fitness, technology, science, nature, spiritual topics and, of course, just pure entertainment. We hope you'll experience something every day that nurtures you and helps you continue to grow as a person. Or maybe you'll just have fun! How you decide to spend your day is your choice.
Some of our residents' favorite programs include:
Cooking Demonstrations
Multi-Faith celebrations and services
Art, media and science programs
Exercise classes and walking group
Brain games on the patio
Musical Performances
New England Trivia
Our residents love being part of EnrichedLIFE Director Jeff Marterer's film festivals!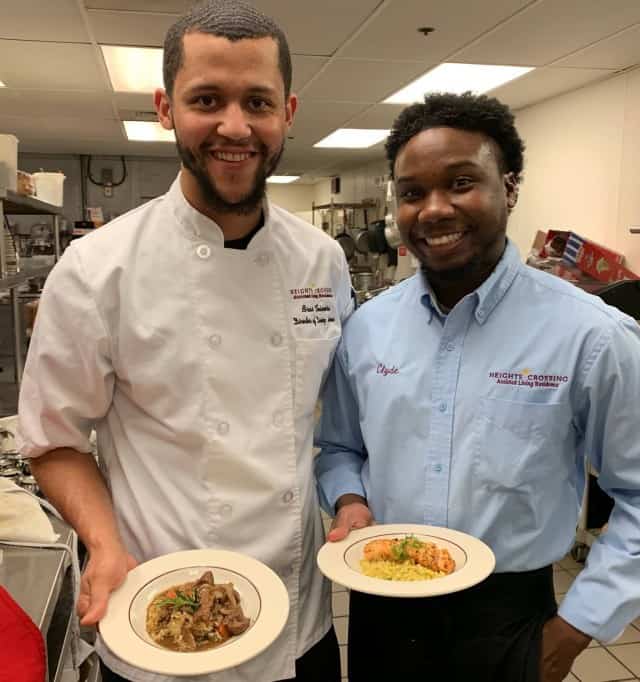 Dining at Heights Crossing
---
At Heights Crossing we offer residents a full restaurant-style dining experience with uniformed waitstaff and lots of menu choices. Our kitchen is run by the talented Chef Bras who designs his own menu every day — it is not handed down from a corporate office. You can often see him in the Dining Room chatting with residents to get their feedback. His daily menus include their specific requests, regional favorites, and foods from the culinary ethnic and religious traditions of our residents. He's also got a special talent for making art out of fruit for our special community events!
Daily menu selections include dishes at every meal inspired by our Brain Healthy Cooking Program. Based on the Mediterranean diet and featuring wholesome, brain-boosting ingredients like fresh fish, dark berries, olive oil, and leafy greens, this award-winning program uses nutrition to help to regulate blood sugar and provide the body with antioxidants and nutrients that are essential to brain health. The well-studied Mediterranean diet has been scientifically proven to have additional outstanding health benefits:
Compass Memory Support at Heights Crossing
---
Our Compass Memory Support Neighborhood® is a secure part of Height Crossing that has been specifically designed for individuals with memory loss or Alzheimer's disease who would benefit from additional structure, support and safety. Residents in our Compass Memory Support Neighborhoods® experience the comfort and independence of apartment living in a supportive and secured neighborhood. Community spaces are designed to feel like home, small-scaled for intimate gatherings and a feeling of warmth. Careful attention to bright lighting, contrasting colors, and unobtrusive security systems help those with memory loss navigate their world safely with more confidence and independence.
Compass Memory Support programming was created to treat the symptoms of Alzheimer's disease. It puts cutting-edge research into action through lifelong learning, social engagement, physical fitness, the arts, and nutrition. In the right environment with the right programs, coupled with a high level of personalized care and attention, seniors with varying stages of memory loss can live a more healthful, active, independent life.
Many of our highly-trained Compass team members are Certified Dementia Practitioners, and our Compass Memory Support NeighborhoodⓇ is also affiliated with Boston University Alzheimer's Disease Center. Learn more about what this means for residents and their families>>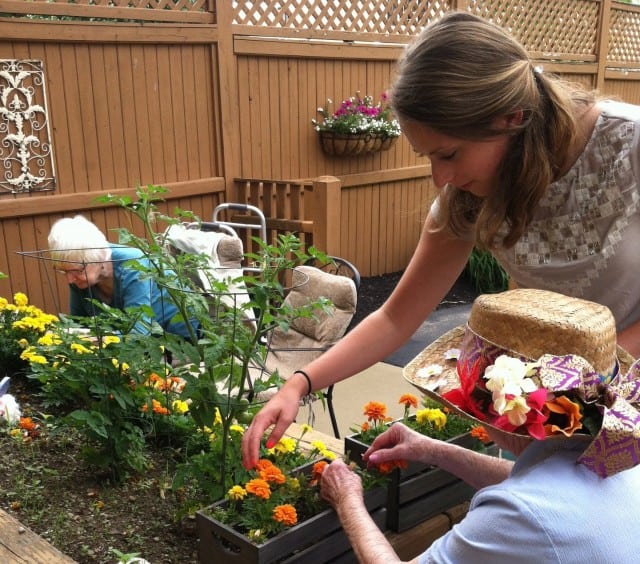 Can a short term or respite stay at Heights Crossing benefit your family?
EASE THE TRANSITION AFTER A HOSPITAL STAY
Reimbursement constraints usually control when seniors are released from a hospital, even if home isn't the best choice. A short-term stay at an Assisted Living community can help lessen the gap and reduce the chance of your family member becoming rehospitalized. 
GIVE A FAMILY CAREGIVER A REST
Our respite stay program means our team can take over caring for your family member while you take time to recharge — Whether this be for vacation, business or when you simply need a break. 
"TEST OUT" THE EXPERIENCE OF A NEW HOME
If your loved one is resistant to move into assisted living, feel free to utilize our unique, "no string attached" trial run to see if our community is a comfortable fit before making the decision to move.
Heights Crossing offers short-term respite stays in both our Assisted Living and our Compass Memory Support Neighborhoods. We have a unique "no minimum stay" policy which gives each family flexibility no matter their situation. Call us at 508-580-4300 to learn more.