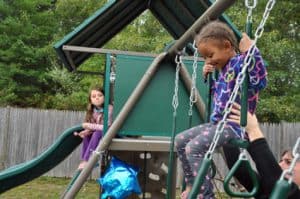 Every Spring Cape Cod Senior Residences hosts Casino Night to benefit a local community organization. This year, the evening event raised nearly $3500 and was able to help two area groups: Hope Dementia & Alzheimer's Services and The Village at Cataumut, an HAC Cape Cod Shelter, where the funds went directly toward the building of a brand new playground.
"Hope Health shares many of the same values that our organization does – a commitment to enhancing quality of life, and a desire to be a resource for the greater community, providing support, assistance and education,"said Cape Cod Senior Residences' Executive Director Mike LeBrun.
"The HAC at Cape Cod, does incredible work for the homeless in our area and truly helps those who are financially limited to buy or rent affordably. Our donation enabled us to install a terrific jungle gym with swings, a slide and a faux rock wall," continued LeBrun "in addition to a couple of picnic tables, one for adults and another for the kids."
"This was such a terrific donation and a great way for everyone in the community to help the homeless families that are living at this shelter.  The staff at the shelter and all of the families currently residing there, truly appreciate the generosity of Cape Cod Senior Residences," said HAC Family Housing Services Compliance Manager Pat Caron.