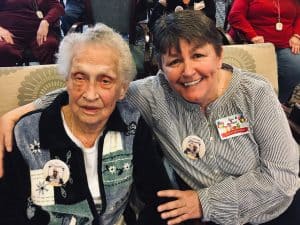 Happy Birthday to Canton's newest centenarian, Millie Blazis, who celebrated her 100th birthday last week at Cornerstone at Canton!
Born and raised in Lawrence, Millie settled in Norwood where she raised her daughter and maintained her home for 77 years before coming to Cornerstone three and a half years ago. She retired after 37 years as a supervisor of the print department at Factory Mutual Engineering in Norwood. She is known to be a prolific baker, afghan crocheter, flower gardener and a huge lover of cats!
Millie has always been a devoted mother, loyal friend and colleague. Her daughter has described her as being "fiercely independent" and says her "inner strength and determination is what has shaped her into the person she is today". At Cornerstone Millie looks forward to the summer time as she can always be found basking in the sun and talking a walk out on the patio. She is truly an inspiration to all of us and we are very grateful to have her as a part of our community.