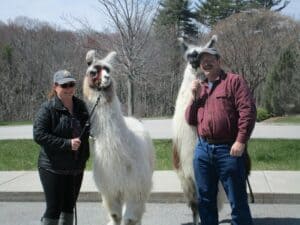 MILFORD, MA — Residents at Cornerstone at Milford received a surprise treat on April 23rd when llamas Nova and Julia from Plain View Farm of Hubbardston visited the senior community. The llamas strolled the perimeter of the building and peered into several windows, much to the delight of Cornerstone's residents.
For Cornerstone, organizing the visit was a way to bring joy and excitement to residents while keeping them safe and healthy.
Plain View Farm is home to 41 alpacas and three llamas. They offer llama and alpaca walks as well as yoga classes with the animals and a wooly goods store. Learn more at www.plainviewfarmalpacas.com.