Join the Cornerstone at Milford Team!
Assisted Living & Compass Memory Support
MILFORD, MA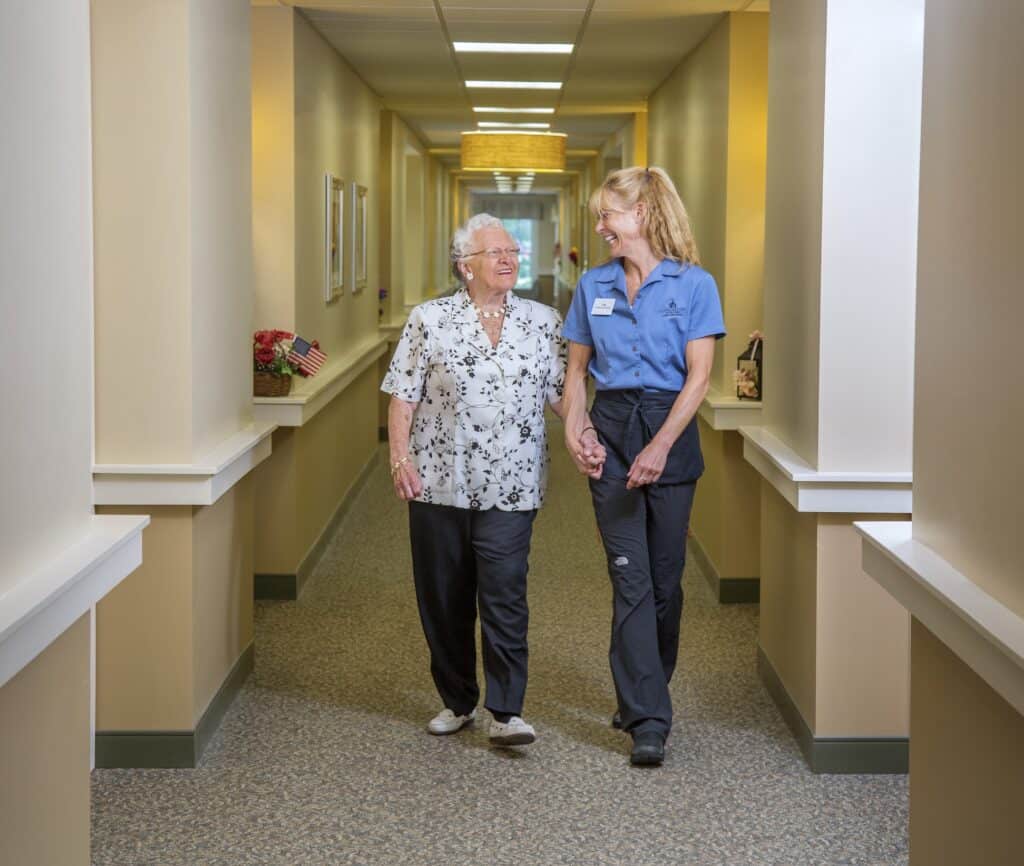 Designed to support a vibrant community of individuals, Cornerstone at Milford offers local seniors supportive assisted living program options and a cutting-edge Compass Memory Support Neighborhood®. Cornerstone is managed by Massachusetts-based Senior Living Residences (SLR), known in the eldercare industry as the Right Values Company for putting resident quality of life as the primary focus. Other well-known innovations created by SLR include the educational Brain Healthy Cooking Program and the stigma-shattering Dementia Friendly Communities Initiative.
Our exceptional reputation among families and professionals alike is due to providing personalized care for each resident, creating unique, life-enhancing programs, and consistently surpassing industry standards. This would not be possible without each associates' commitment to our "Right Values" philosophy.
Want an incredibly rewarding career? Join the SLR team!
Work alongside a team of caring and dedicated professionals. Relish in an outstanding benefits package. Make our residents' twilight years their best years. Apply below!
BENEFITS & PERKS
Rewarding work, and genuine support from co-workers are just a few of the many reasons our associates have chosen to work for Cornerstone at Milford. All SLR communities are guided by our core beliefs in resident quality of life, integrity, innovation, discovery, and valuing every associate.
Specific benefits and perks include short and long-term disability insurance, generous PTO, company contribution toward deductible health expenses through an HRA, complimentary life insurance, staff and resident referral bonus programs and several retail discounts.
Current Open Positions:
Click an open position below for a full job description and to apply.
Certified Nursing Assistants and Home Health Aides
Resident Care Associate (CNA/HHA)
Milford, Massachusetts, United States · Cornerstone at Milford

DESCRIPTION
Cornerstone at Milford seeking Resident Care Associates to join our team. All shifts are available and walk-in applicants are welcome.

At our community, priority number one is the enhancement of each resident's Quality of Life. We focus on the whole person, not just the treatment of their most basic physical or cognitive needs. Our method is to individualize a plan of care for each resident, providing just the right combination of services to optimize their overall well-being, independence, personal dignity and enrichment.

Our Resident Care Associates (CNAs or CHHAs) are responsible for the delivery of quality care to the residents of the community, encouraging independence and ensuring each resident's physical, social, cultural, intellectual, and mental well being.

RCAs will be responsible for:
Providing personal care as directed by the service plan and as scheduled on the RCA's shift assignment in a compassionate, professional and efficient manner.
Monitoring residents' SAMM making the required record entries to the Medication Management Record Book at appropriate times, and notifies the Supervisor concerning the effects of self-administered medications.
Communicating with and assisting families and visitors in a helpful, professional manner.
Initiating and completing activity programming as directed by the EnrichedLIFE Director and/or Compass Program Director.
Encouraging residents to socialize and participate in scheduled activities.
Completing all documentation of performance of assigned resident care duties
Assisting with dining services as needed.
Performing light housekeeping services as assigned and assists with cleaning of areas of bodily fluids and other emergencies.
A desire to serve seniors and a dedication to improving their quality of life is required. RCAs must maintain a positive attitude, the flexibility to perform various duties in service to the residents and the ability to work in a team environment.

REQUIREMENTS
Certified as a Certified Nursing Assistant or Certified Home Health Aide
Resident Care Associates must demonstrate experience in geriatric care, work well with seniors showing understanding and patience, be a flexible team player, and demonstrate a desire to work with individuals with Alzheimer's disease or other related dementias.
Must be able to read, write, speak and understand English.
Background checks will be completed prior to employment.