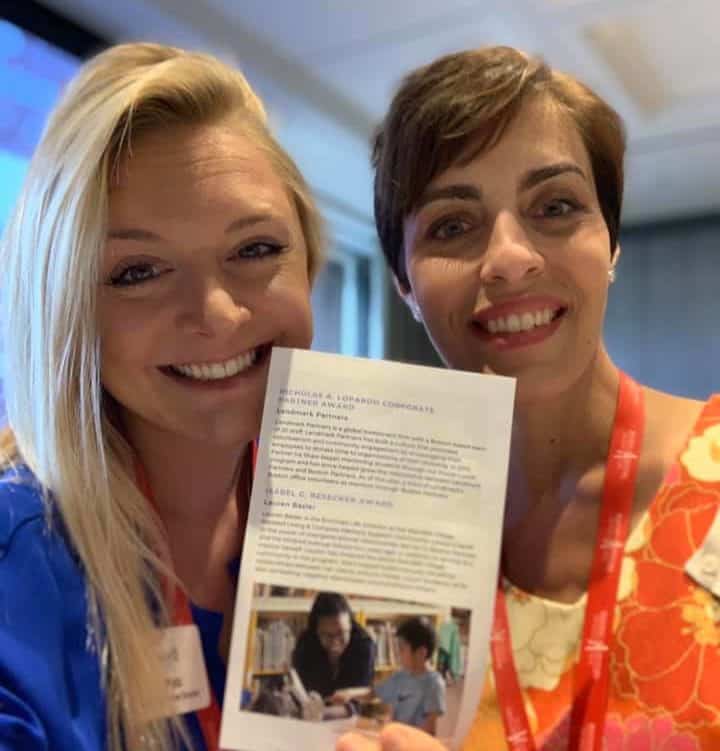 Pictured above: Julie Platz (left), Assistant Executive Director at Standish Village, and Lauren Basler (right), EnrichedLIFE Director at Standish Village and recipient of the 2019 Isabel G. Besecker Award
BOSTON, MA — On June 11th, Lauren Basler, EnrichedLIFE Director at Standish Village Assisted Living at Lower Mills, received the 2019 Isabel G. Besecker Award from Boston Partners in Education for mentoring the Power Lunch program at the Mildred Avenue School in Mattapan and involving senior residents from her community.
Each year, Boston Partners in Education presents awards in seven categories at their Academic Mentor Party (AMP) to those who have shown a passion and dedication for public education.
Power Lunch is a literacy enrichment program which pairs volunteer mentors with students in grades K–3 throughout Boston Public Schools to provide guidance and inspire a passion for learning and reading. Each week throughout the school year, Basler and a group of residents from Standish Village Assisted Living and Compass Memory Support Community attend the Power Lunch meetings, held at Mildred Avenue School, and read to students, play word games and discuss hobbies.
"Our residents have loved the opportunity to engage with young students and stay involved in the larger community," says Basler. "Intergenerational programs like this are crucial for combating the stigma surrounding aging and memory loss."
Learn more about Standish Village and their involvement in the Power Lunch program at www.standishvillage.com.