Assisted Living for those with Mild Cognitive Impairment, Alzheimers or related Dementias
If you are struggling with decisions concerning a loved one with memory loss, please call us. We can offer your mom or dad, aunt or uncle, or perhaps a close friend, a nurturing and secure environment where his or her emotional happiness, dignity and independence are supported and encouraged every day and the symptoms of his or her memory illness are actually being treated. Senior Living Residences is a trusted name in memory support care for over two decades. As a result of our years of experience, we knew there was a better way to provide care for individuals with dementia. After conducting extensive research and partnering with leading academics and clinicians, in 2009 we launched Compass Memory Support®.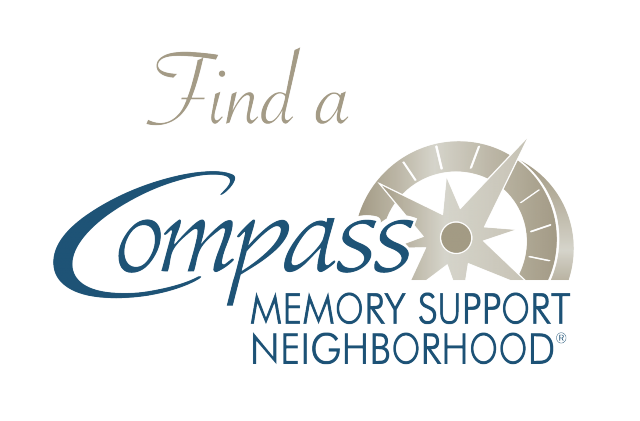 Compass Memory Support offers the individual with Mild Cognitive Impairment, Alzheimer's Disease and related dementia a therapeutic, whole body wellness approach designed to treat the symptoms of the disease through innovative programming, including our brain healthy nutrition program, specialized arts and fitness programs and curriculum-based lifelong learning programs tailored to those with cognitive impairments. 
Our Compass communities are affiliated with the Boston University Alzheimer's Disease Center which offers clinical consultation to our Compass Program Directors, in-service professional training to our management teams and caregiving associates, and research opportunities for residents and families.
For family members who are navigating the day-to-day realities of memory loss, Compass Memory Support provides guidance every step of the way. From families who need initial information about memory loss and assisted living options, to those dealing with an immediate placement need, we offer family support, including short-term respite stay options to give family caregivers an occasional break, Caregiver Support Groups, education resources, and recommendations for counseling and other healthcare services.
Because there are varying levels of memory loss, we offer two Compass Memory Support Programs within our communities: