MIDDLEBORO, MA — On April 16th, residents at Oak Point Retirement Community in Middleboro had the opportunity to hear from experts on how making more healthful and mindful food choices can benefit your brain and whole body health. 
Oak Point hosted approximately 70 guests for "Celebrating the Mediterranean Diet" presented by the nonprofit Oldways, Health through Heritage, and Heights Crossing Assisted Living of Brockton. 
Presenter Kelly Toups, Director of Nutrition at Oldways, provided an overview of the science behind the Mediterranean diet as well as the host of health benefits connected to it, including reduced inflammation, regulated blood sugar, heart health and even delayed symptoms of Alzheimer's disease. Toups explained that the Mediterranean diet is not just about food; at the base of its pyramid is lifestyle components like exercising, making time for meals with friends and family and maintaining an active social life. 
Kathy Hermanson, Director of Community Relations for Heights Crossing, discussed the assisted living and memory support community's award-winning nutrition and dining program, Brain Healthy Cooking, which is based on the Mediterranean diet but adapted for seniors. Through this unique program, they offer their residents delicious, taste-tested brain healthy choices on their daily menus and promote regular physical activity and socialization with a full daily program calendar.
Oldways is a non-profit food and nutrition education organization, with a mission to inspire healthy eating through cultural food traditions and lifestyles. Every year during May, Oldways generates awareness about the Mediterranean Diet through International Mediterranean Month, a special month-long event. Visit www.Oldwayspt.org to learn more, and to access their extensive library of healthy recipes and nutrition resources.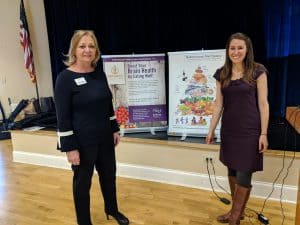 Pictured above: Kathy Hermanson (left), Director of Community Relations at Heights Crossing, and Kelly Toups (right), Director of Nutrition at Oldways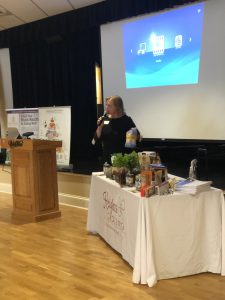 Pictured above: Kathy Hermanson presents a collection of brain-healthy foods that are easy to find in most grocery stores.