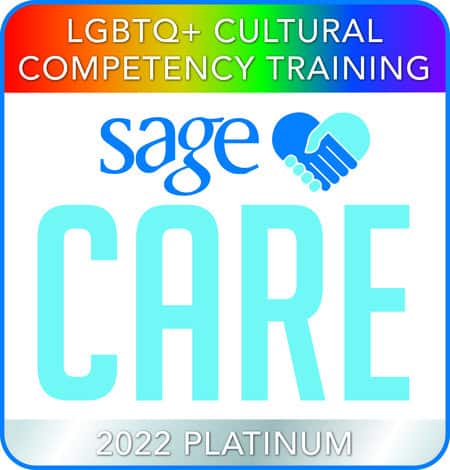 Cape Cod Senior Residences has achieved the Platinum accreditation level from SAGECare, an organization that provides LGBT Cultural Competency training and consulting to service providers. Earning the Platinum accreditation level demonstrates that at least 80% of Cape Cod Senior Residences' staff have been trained to gain a deeper understanding of the cultures, needs, and concerns of LGBTQ older adults. In this way, staff can better navigate the range of issues connected to this population.
SAGECare is a division of SAGE, the country's oldest and largest non-profit organization dedicated to improving the lives of LGBTQ older adults. The organization's accreditation process involved an in-person training geared toward Cape Cod Senior Residences' team of managers, along with a training module for their frontline associates. The program equipped associates with the tools necessary to maintain a commitment to inclusivity. It also educated on a variety of unique issues the aging LGBTQ population faces, including possible anxiety towards accessing much needed services.
Completing this training and certification process solidifies Cape Cod Senior Residences' mission of building a welcoming, inclusive and accepting environment that celebrates the identities of all residents and families they serve. This culture of acceptance also helps to create a positive work atmosphere for associates, as they are able to embrace all aspects of their identities.
Together, Cape Cod Senior Residences and SAGECare will continue their partnership to serve LGBTQ residents with the best care possible. The community strives to ensure that each resident feels accepted for who they are, and promote the dignity and independence of all community members.
"Each resident's personal identity and experiences are important to us, and SAGECare's training program has allowed us to fully provide the support and acceptance they deserve," shares Michael LeBrun, Cape Cod Senior Residences' Executive Director. "The education we've received will be instrumental in maintaining an insightful, welcoming and inclusive community." It is estimated that there are currently around 3 million LGBTQ older adults in the U.S., and that number is expected to grow to around 7 million by 2030 (SAGECare).
To learn more about SAGECare, visit their website.