Cornerstone At Milford, New Senior Living Community, Holds Groundbreaking Ceremony
Milford, MA, December 6, 2012 – Cornerstone at Milford, the town's new 85-unit senior living community, held its official Groundbreaking Ceremony on Thursday, December 6th. Cornerstone will offer local seniors in Milford and neighboring communities throughout Metrowest service-enriched Assisted Living and a state-of-the-art Compass Memory Support Neighborhood™ which is affiliated with the Boston University School of Medicine's Alzheimer's Disease Center.
Noted community leaders invited to the event included Milford town officials who were involved in reviewing the project and approving permits: Louis J. Celozzi, Town Administrator; Larry Dunkin, Town Planner; Michael Santora, Town Engineer; and John Erickson, Building Commissioner.
Work on the site has already commenced. The site has been cleared and leveled and loam is being trucked in to prepare the ground prior to laying the foundation. The project's construction team expects to pour the foundation in just a few weeks. Steve Paquette of SPL Development, one of the companies involved with the new project, said, "It is our expectation that construction will proceed smoothly toward an opening date this Fall 2013."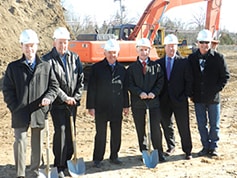 The new community is being built on the site of the former Greenleaf Farm at the corner of Birch Street and Route 109 just one block from Route 495 and a short drive to downtown Milford. In a nod to the site's history as a working farm and apple orchard, the new owners plan on saving some of the older apple trees and replanting them within the new landscaping. The project's interior designers are creating an interior space that they characterize as a "refined country look" with natural woodwork, a bright and airy open floor plan, lots of natural light, and easy access to outdoor patios. The exterior amenities also include a lighted paved walking path around the building with resting spots, a gazebo and raised planting beds.
The building also features spacious studio and one-bedroom apartments with a variety of indoor spaces, including a dramatic dining room, a library with computers available for community use, a full-service salon, a Café where residents will attend cooking classes, and a large community room for the performing arts and visiting guest lecturers.
The companies and individuals involved in the development of Cornerstone at Milford have strong local connections and considerable experience in the assisted living and senior housing fields. The community will be managed professionally by an owner of the project, Massachusetts-based Senior Living Residences (SLR). SLR currently owns and/or manages 11 other senior communities in Massachusetts, including Compass at Hopkinton in the neighboring town of Hopkinton which features residential memory care. SLR has been at the forefront of creating innovative independent living, assisted living and memory support communities in New England for over 20 years.
Robert Larkin, President of SLR said, "Having local, hands-on ownership and operations management ensures complete attention to detail and a strong commitment to the success of this community over the long term. We appreciate the warm welcome we have received from Milford and we look forward to becoming an integral part of this community and an important resource to local seniors and their families as we gear up to bring the next generation of senior housing to Milford."
Mr. Larkin added, "Cornerstone at Milford will offer a world of choice to older adults who wish to maintain their independence and active lifestyle with the peace of mind knowing that help is available should they need it. With an opening date less than a year away we are gearing up to provide detailed information to interested people in January and we will open several furnished Model Apartments for tours as soon as we can – certainly by late Spring. Individuals who are interested in preliminary information now are encouraged to visit our new web site www.CornerstoneMilford.com, email us at info@CornerstoneMilford.com, or call us at 508-473-0035."