Mary was displaying concerning behaviors, including aggressive outbursts, persistent wandering and exit-seeking, resistance to personal care, and sleeplessness.
*To protect privacy, names and photos are not actual.
Mary's Story
Redirecting Mary from her Anxiety-Driven Behaviors through Individualized Programming.
Mary*, age 88 and living with dementia, had recently moved into a memory care community where the care staff began strongly suggesting to her daughter, Linda, that she consider medication to treat her "behavioral issues." Linda, who believed that medicating her mother should be a last resort began seeking out a more holistic and supportive living arrangement. She discovered Senior Living Residences' (SLR) Compass Memory Support program and was impressed by their "whole person" approach — treating the symptoms of memory loss through research-based programming, social engagement and personalized care.
SLR's Whole Person Treatment Approach
With a non-pharmacological approach at the Compass Support Neighborhood's core, the care and programming staff worked together on a plan for Mary to decrease her aggressive behaviors by giving her a renewed sense of purpose. Knowing that Mary enjoyed homemaker duties, the staff included Mary in small daily tasks including folding clothes, sweeping, setting dining tables and gardening. "We knew that Mary needed to be treated with compassion, not with medication. She was warm and caring, and we just needed to get to the bottom of what Mary really needed, figure out what she felt was missing in her life," said SLR Resident Care Director Angela Peterson. Keeping Mary happy and engaged helped to redirect her from her anxiety-driven behaviors.
After just 30 days…
Mary no longer displayed aggressive outbursts or resistance to personal care which improved hygiene immensely. Mary became an active member of the community, embracing her peers and opportunities to pursue more of the things she loves. "Mary's warmth and affectionate side shines through now. She seems happy. She hugs staff and residents regularly, which is something she never did before," said Peterson.
Linda finally feels peace of mind since moving mom to an SLR community. She is no longer playing the worried caregiver role. Today, Linda enjoys visiting and having tea with her mom, adding, "I get to enjoy our mother-daughter relationship again.
Enhanced services following a hospitalization or rehab stay:
Our communities may be the perfect next step to receive needed extra care and support before returning home to live independently. This added support is often the key to ensuring your loved one won't end up back in the hospital or rehab facility.
We offer a holistic approach to sub-acute rehabilitation – personal care, rehabilitation, a brain healthy diet, and socialization are all right here, without the look and feel of a medical setting. Our Resident Care Director develops a customized Wellness Care Plan for your loved one, that can include physical, occupational, or speech rehab services provided by local VNA services.
We can coordinate for you:
Wellness oversight and coordination of follow up care, including outstanding tests, discharge notes and post discharge physician visits
Improved patient education on diagnoses
In-house therapy and skilled care services paid by Medicare
Complex cases with VNA services, such as oxygen and postsurgical wound care
Medication reconciliation and comprehensive medication management
Personal care support and immediate response to "unscheduled" needs
Reducing Reliance on Medications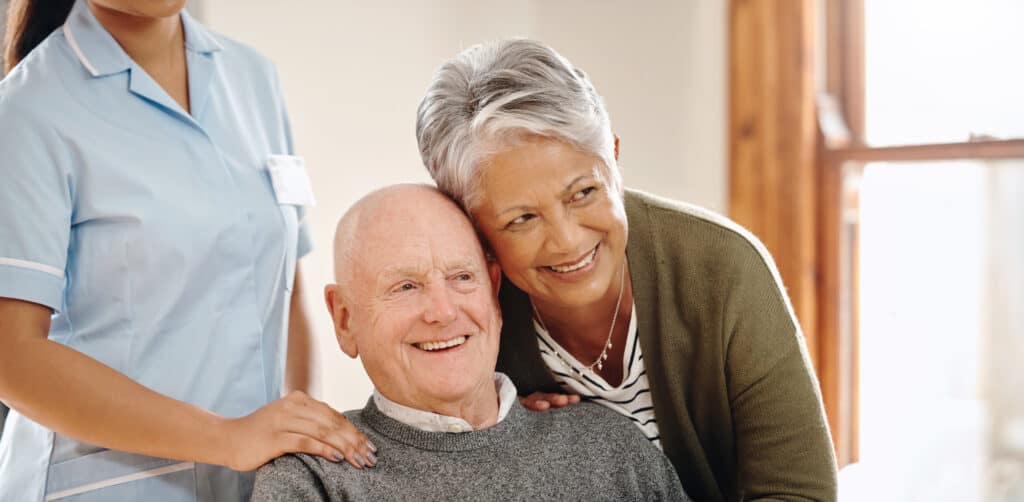 Our approach is to intimately get to know your loved one as an individual – his or her personality, past profession and lifestyle, and preferences for a daily routine. With this knowledge we can treat the symptoms of your loved one's disease with unique programming and redirection, rather than relying on medication.
When new residents move into our community, we work with their doctors to establish a plan for weaning them off antipsychotic medications whenever possible. When behavioral challenges arise, our caregivers are trained in gentle techniques to redirect and comfort residents in ways that don't involve medications. This is different from other communities, where medications are often used as interventions. The American Healthcare Association has identified the reduction of antipsychotic medications as a priority. We are also committed to this goal.
Do any of Senior Living Residences' Communities offer a Caregiver Support Group?
YES, Senior Living Residences is dedicated to assisting and supporting individuals with memory loss and the families and friends who love them, that's why many of our communities offer an Alzheimer's & Dementia Caregiver Support Group.
Adapting to and planning for each stage of Alzheimer's disease and related disorders can be difficult, but it is helpful to share your concerns and personal experiences with others who completely understand what you are going through.
Our Alzheimer's Caregiver Support Groups are facilitated by a Compass Memory Support Program Director who shares his or her expertise about the disease and arranges for guest speakers who provide specialized information to the group.