"I witnessed first-hand how the ConnectedLIFE program gave Mom confidence, a close group of peers and a new lease on life."
*To protect privacy, names and photos are not actual.
Lorraine's Story
How the ConnectedLIFE Program Boosted Lorraine's Self Confidence
In 2013 my parents, Lorraine and Ed*, were living on their own in a condo community in MA while I was living in Florida with my family. After coming up for visits to see my parents, I soon realized that day-to-day errands and home maintenance were proving too difficult for them to keep up with. Grocery shopping wasn't getting done so my parents weren't eating the best meals. The condo wasn't as kept up as it usually was. Dad was also starting to show signs of dementia, often taking drives and getting lost.
At that time, my two siblings and I had the incredibly hard talk with our parents about moving to a more supportive community. Mom and Dad went to an independent living complex. I knew the move wasn't the best fit for them and that they needed assisted living but they refused to make the move to an assisted living community. We figured an independent living community would be better than our parents living on their own. We were wrong…
A Move to a Senior Living Residences Community
After about a year at the independent living community, my parents' health was deteriorating. Dad was falling a lot and Mom wasn't cooking at all. It was obvious they needed more help than what that community was able to offer. My siblings and I knew that our parents were no longer safe so we made the hard decision to go against their wishes and move them to an assisted living community. A nearby Senior Living Residences community offered exactly what they needed.
At the time, my father's health had been steadily declining due to his congestive heart failure and Alzheimer's diagnosis. By the summer after the move, he had passed away and Mom was on her own. She was healthier and well-taken care of, but we noticed she still had a great deal of anxiety and depression (a diagnosis she struggled with most of her life), having trouble getting out of her apartment and enjoying the bustling community around her.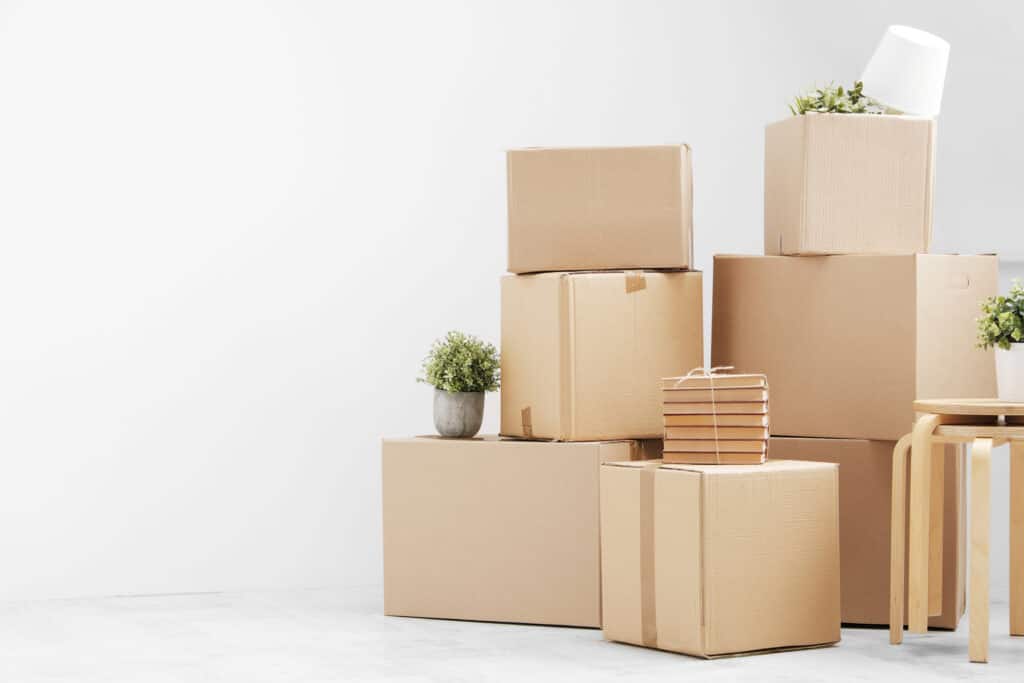 Mom Before ConnectedLIFE
At Senior Living Residences' communities, assisted living is all about preserving the residents' right to choose how to spend their day, so even though the staff put forth great effort into offering to escort Mom to programs or get her out of bed to enjoy meals with others, she ultimately made her own decision on how to spend her day and that was often to stay in bed and self-isolate. When we'd call or visit, Mom would often be weepy. She wasn't having her best days…
Despite a phenomenal schedule of programs that Mom would love to take part in, she just could not bring herself to attend. Mom was starting to show some early signs of memory loss and we thought that her decisions not to participate may have been because she could no longer easily follow a conversation or keep up with the others in the group. We were in constant contact with the community's Executive Director Anne, who was very involved with Mom's transition, equally concerned about her self-isolating, and actively trying to find ways to get Mom more involved.
Anne approached us about a new program that the community was rolling out called ConnectedLIFE. The program, as Anne described it, was created specifically to support those with early symptoms of memory loss (or Mild Cognitive Impairment as it is sometime diagnosed) and help them thrive in the traditional assisted living environment. Anne felt Mom would be a great fit. What we really liked about the ConnectedLIFE program was that residents like my mom could get the extra support, structure and guidance that they needed without having to move to a Memory Support Neighborhood. Plus Mom would be a part of a smaller, intimate group of residents with similar symptoms which would help provide reassurance, and promote confidence and a feeling of safety and support. ConnectedLIFE was exactly what our mom needed, and we quickly enrolled her in the program.
The Right Fit for Mom
Once Mom started the ConnectedLIFE program, she became a new person. Before ConnectedLIFE, Mom's world was getting smaller, and she was unable to get herself out of her apartment. Now she gets herself up and she looks forward to the programs each day.
Her new routine provides more structure and support. After her caregiver comes in the morning to help her dress, she is escorted to breakfast where she meets up with her ConnectedLIFE group. She moves through each day with this group until 8pm, engaged in programming (and, of course, down time as well). The programs keep Mom's brain and body much more active, helping her to get back to a normal sleeping pattern. Her confidence has significantly improved. No longer lost in a crowd, the intimate group setting that ConnectedLIFE offers gives Mom the sense of belonging she needed. She also benefits from the additional 1-on-1 time she gets with a higher "teacher-to-student ratio."
It's the small things that were also thought-through with this program. For instance, the dining room use to be a "land mine" where mom felt anxious about which groups to sit with and where she belonged. Now that stress is removed as she dines daily with her ConnectedLIFE group. It's also no longer Mom's responsibility to review the calendar and find something to do that she would feel comfortable at. ConnectedLIFE makes choosing an appropriate activity easy, filling her day with programs that fit her wants and needs.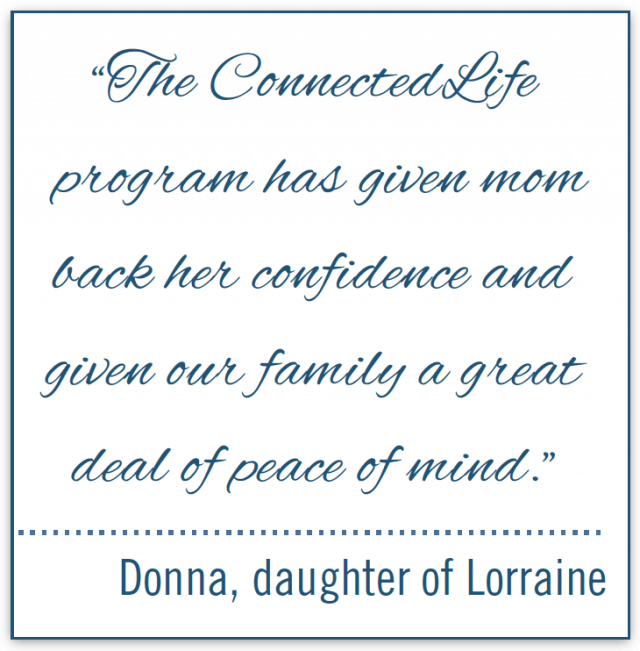 Witnessing the ConnectedLIFE Difference
I recently had the pleasure of staying at Mom's community in an available apartment for a week when I came up from Florida to visit and I witnessed first-hand why this program is so special. I noticed that the environment was one of positive reinforcement and encouragement. The focus was on the individual and their specific needs and not so much on generally serving a big group. I saw that Mom felt safe in her group, that they all watch out for each other. I was also so impressed by the level of programming that ConnectedLIFE offers. Everything is education-driven and very adult.
After my week ended, I truly felt the love that this group had for each other and I had such peace of mind knowing that Mom was doing so well with a great new group of friends. There was nothing harder to go through to be so far away from your mom and hear her cry on the phone at night to you and know that she was isolating herself, feeling lost. Now, I can't tell you how relieved I am to no longer hear Mom crying on the phone. I am no longer wondering if she's hiding in her apartment. ConnectedLIFE has given my mom a new lease on life.
What are the Elements of the ConnectedLIFE Program?
ConnectedLIFE is specialized memory support programming and care for Assisted Living residents who may be experiencing early memory loss, Mild Cognitive Impairment or related cognitive issues.
ConnectedLIFE has all of the elements of our unique evidence-based Compass Memory Support® programming, which has been revised to meet the needs of higher functioning adults who don't need a secure environment.
ConnectedLIFE residents benefit from extra support, structure and guidance, yet they remain independent.
ConnectedLIFE offers an intimate group setting of residents experiencing similar cognitive impairments, providing reassurance and meaningful opportunities for socialization.
ConnectedLIFE residents are fully involved in community life, participating in a robust educationally-based immersive program with a full calendar of activities.