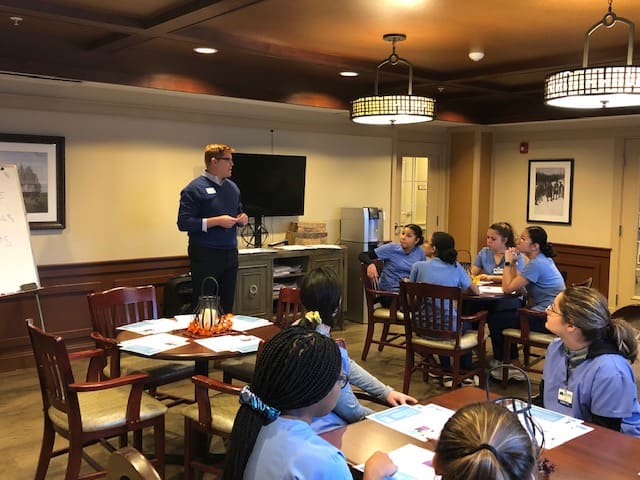 CANTON, MA — There is growing involvement worldwide from young people who are joining the Dementia Friendly Movement, getting educated about the science behind the disease and how to support older adults with cognitive impairment. Cornerstone at Canton has gotten involved by hosting a dementia awareness and sensitivity training for students from Blue Hills Regional Technical School in Canton.
On November 18th, the Assisted Living and Compass Memory Support Community hosted 20 students for The Dementia Experience, an interactive sensitivity training that uses sensory modifications to give participants certain physical and mental limitations and asks them to perform activities that highlight the challenges people face daily when living with Alzheimer's or a related dementia. Cornerstone's Executive Director, Michael Schaus, then presented Understanding Dementia in the Real World, an overview on what dementia is and how best to communicate with someone experiencing memory loss.
Cornerstone at Canton also has an ongoing program with St. John the Evangelist School in Canton, where seventh and eighth grade students each visit monthly to assist with the senior community's programming and learn firsthand how to build therapeutic programs for seniors.
"We believe it is important to educate our youth about the challenges many older adults face, including memory impairment, isolation and loss," says Schaus, "especially since some of these individuals are considering careers working with seniors."
You can learn more about Cornerstone at Canton's public and professional education programs by visiting www.CornerstoneCanton.com or by calling 781-821-3616.