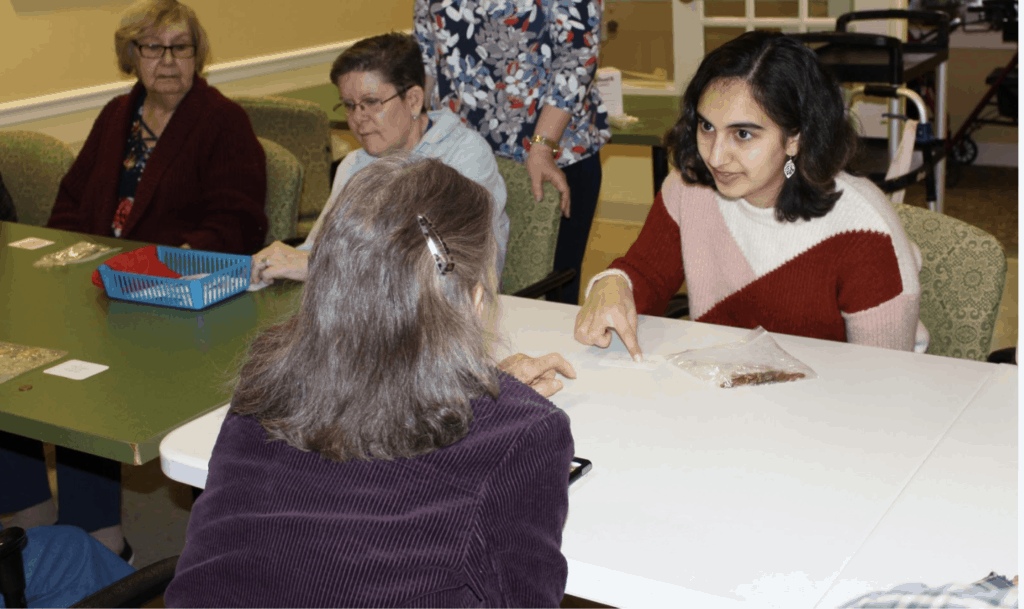 AYER, MA – The parlor of Nashoba Park Assisted Living was buzzing with activity and conversation on a sunny Monday afternoon as a dozen students from Groton School, participating in a community service project on Martin Luther King Jr. Day, broke into pairs to interview the senior residents. While the students asked their partners questions about their lives and what being American means to them, the two groups bonded over shared heritage, language and interests.
The Groton students visit Nashoba Park each week, and residents and students engage in activities like flower arranging, craft projects, baking and interactive games, all while chatting about fond memories and favorite hobbies.
This weekly intergenerational program taking place at Nashoba Park is the product of a multi-year partnership between the Assisted Living community Groton School, which continues to expand each year.
The partnership was launched twelve years ago when a Nashoba Park associate reached out to a family member working at Groton School about the possibility of hosting students for regular intergenerational programming. Student visits became a more formalized weekly tradition five years ago, and students can now choose to take part in Nashoba Park's social programming during their winter trimester as one of the academic institution's many extracurricular activities.
For students at Groton School, the opportunity to spend time in the senior living community has enriched their high school experience. Students take an active role in planning activities each week, often drawing on their own interests, talents, and backgrounds.
"Students love to spend time with Nashoba Park residents – they often return eager to share about the time they spent together and the stories they heard," says Rob O'Rourke, Groton's Director of Community Engagement. "Seeking out partnerships that enable our students to connect with community members who have different perspectives and experiences is critically important to us at Groton, and we feel fortunate to have developed such a strong and meaningful relationship with Nashoba Park."
About Nashoba Park Assisted Living
Nashoba Park Assisted Living, a Volunteers of America Massachusetts Senior Community, offers local seniors an enriching, supportive lifestyle with personalized services, innovative programming, and a fine dining experience featuring the award-winning Brain Healthy Cooking Program. Learn more online at www.NashobaPark.com.
About Groton School
Groton School is devoted to inspiring lives of character, scholarship, leadership, and service within a diverse, inclusive, and close-knit community. Groton School is recognized as one of America's top boarding schools, attracting students from all over the world. It prepares students in grades 8–12 for what the school founder called the "active work of life."