Discover Nashoba Park Assisted Living
Residents of Nashoba Park enjoy the independence and privacy of their own apartment home while benefiting from living within a larger community offering security, companionship, lots of social and wellness activities, and a wide array of supportive services whenever they need it. Plus, we offer a number of innovative programs and attractive features that are unique to the greater Ayer area.
EnrichedLIFE Experiences & Adventures
---
Our multifaceted EnrichedLIFE Program offers a wide array of social and wellness activities to give residents something to look forward to each day. When you are in the mood to have fun, learn something new and get moving, we offer many choices! From musical performances and Tai Chi to Discovery Learning Series and outdoor gardening, the possibilities are endless. We also provide transportation to get you where you want to go.
Pursue hobbies you love or try something completely new! Popular programs include:
Walking and singing groups
Trivia and word games
Art and literature classes
Concerts in the courtyard
Exercise including Tai Chi, yoga and Arthritis classes
Intergenerational programs (read about our partnership with Groton School)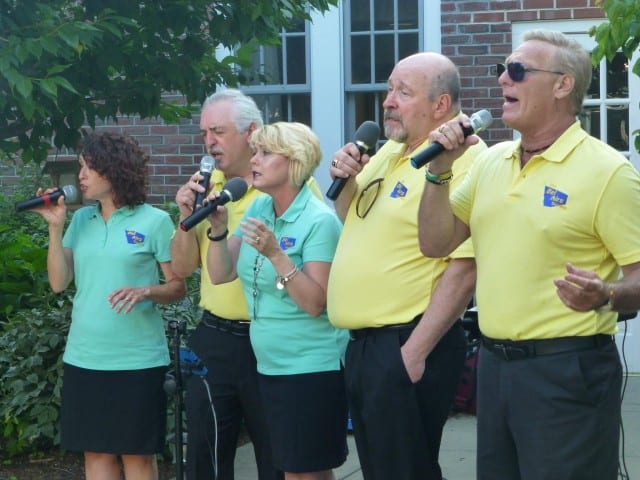 Award-Winning Dining at Nashoba Park
---
Our restaurant-style, fine dining experience features menu variety, fresh ingredients sourced locally in-season, and stellar wait service — all led by our own Executive Chef!
At every meal we offer menu choices inspired by the Mediterranean, as part of our award-winning Brain Healthy Cooking Program. The wide variety of "brain healthy foods" we incorporate into delicious recipes are based on the Mediterranean diet and includes fresh vegetables and fruits, whole grains, spices, nuts, olive oil, eggs, lean meats, fish and seafood.
Our Executive Chef uses this versatile program to create healthful variations of our residents' favorite traditional and regional recipes by substituting natural sweeteners for refined sugar, replacing saturated and trans fats with healthy fats, and using tasty spices to cut back on salt. The Mediterranean diet has been scientifically proven to boost overall brain health and cognitive function by providing the body with potent antioxidants and nutrients with anti-inflammatory properties, essential to brain health. It has also been proven to promote heart health and is great for seniors managing diabetes. But the most important factor, of course, is that it's delicious! We encourage guests to ask our residents about their favorite dishes.
Check out our Sous Chef preparing a Mediterranean-inspired haddock dish!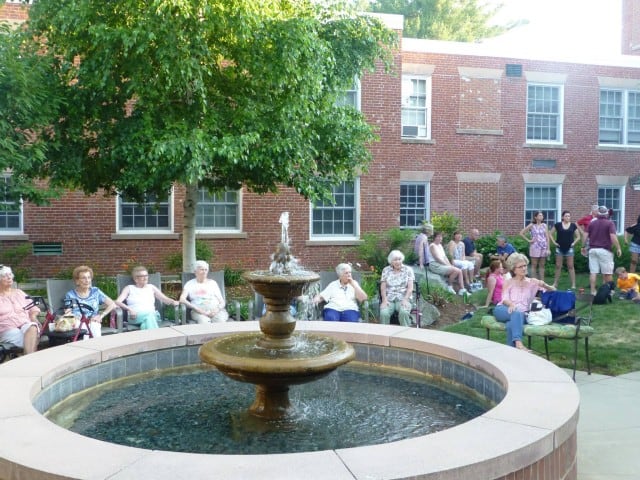 Our Big, Beautiful Courtyard
---
Accompanying Nashoba Park's remarkable indoor spaces are luxurious outdoor areas, including an enclosed outdoor patio and courtyard, which is also a Certified Wildlife Habitat.  Building and maintaining a connection with nature is another major focus of our programming. We conduct many outdoor activities, weather permitting, and you will always find residents chatting on the patio or taking a stroll with friends. Our courtyard serves as a popular place for outdoor relaxation, summer barbecues, and community events. Plus, it's a hub of exploration for residents, especially for those with a "green thumb"!
Short-Term and Trial Stay Options at Nashoba Park
Nashoba Park offers a short-term and trial stay option that includes all the services and amenities available to our permanent residents. This program is perfect for:
Giving primary caregivers a break: Take time to rest and recharge while our team cares for your loved one. Leave your worries behind as you travel for business, vacation or simply take some much-needed time for self-care.
Easing the transition after a hospitalization or rehab stay: We provide seniors with additional support after a hospital stay, when they might not be ready to return home just yet. Using respite care in this way can help lower the risk of re-admission as your loved one recovers.
"Try out" the experience of Assisted Living: Our trial stay program has no minimum length – so your loved one can stay for as short or as long as they like to decide if Nashoba Park is the right fit.
Call us at 978-772-0707 to learn more, or book your tour here.