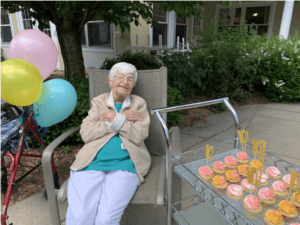 AYER, MA – Constance Valley, affectionately known as Connie by her family and friends, recently celebrated her 102nd birthday in style, complete with cupcakes and a car parade hosted by her daughter and staff at Nashoba Park Assisted Living in Ayer.
Turning 102 is certainly no small feat, and her friends and family set out to make the day as special as possible for the centenarian. Seated in a chair decorated with balloons, Connie watched and waved as more than 20 cars, including an Ayer police cruiser and fire engines from both Ayer and Westford, paraded by the Assisted Living Community with signs and balloons. She finished off the celebration with colorful cupcakes, shared among her friends.
You can view more photos from Connie's birthday celebration on Nashoba Park's Facebook page at www.facebook.com/NashobaPark/. Learn more about this Volunteers of America Massachusetts Senior Community at www.NashobaPark.com. See more coverage in the Action Unlimited.