We asked associates...
What is your favorite program that residents can take part in?
---
"My favorite program residents take part in is our Discovery Series! Residents will bring their own knowledge into the program, whether they teach their peers a new language, show pictures from a trip they went on, or educate on a topic they studied throughout their life. It truly is a learning experience for everyone involved."
- Julie Platz, Executive Director
"Our Lifetime Achievement Ceremony! It is so great to see families and friends beam with pride as their loved one is publicly credited for all they have done through the years."
- Isabel Pires, Director of Business Administration
"Discovery Learning Classes. We have studied so many different topics, and used technology to do amazing things- like taking a virtual tour of the Palace of Versailles! I enjoy teaching those classes because there is no end to what we can explore together. We use PBS, Google Arts & Culture, and many other sources to broaden our horizons. For instance, we don't just learn about Norman Rockwell - we can actually go virtually to the Norman Rockwell Museum!"
- Lauren Basler, EnrichedLIFE Director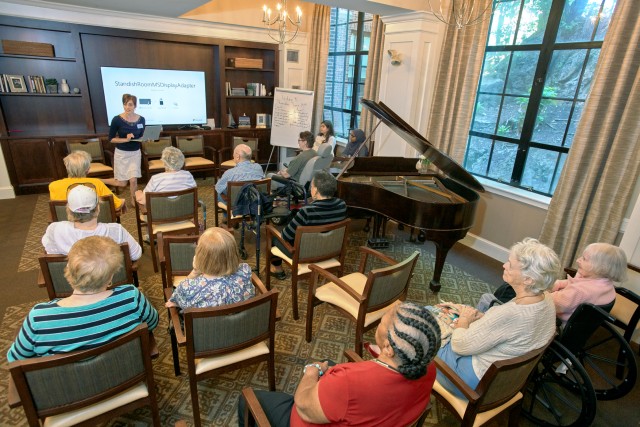 "My favorite program on our Compass Memory Support Neighborhood at Standish Village is karaoke because it gives residents a chance to perform individually and be in the spotlight! A lot of our residents will take the microphone, sing, and dance to a song that they know by heart, and people become really engaged with the music."
- Ericka Foley, Director of Compass Programming
---
"Grab your passport! It is so great to appreciate different cultures and countries with each other!"
- Jessi Ruiz, Resident Care Director