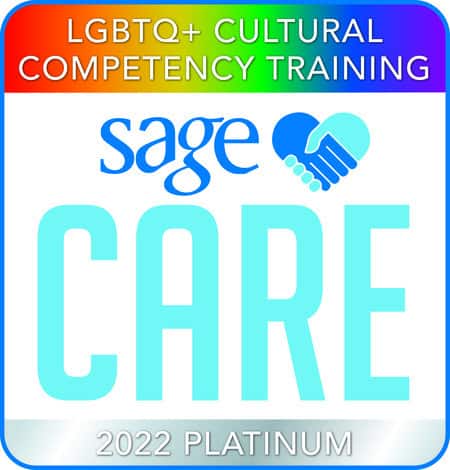 Concord Park Senior Living recently reached the Platinum accreditation level from SAGECare, an organization that provides LGBTQ Cultural Competency training and consulting to service providers. Earning the Platinum credential means that Concord Park has trained at least 80% of their staff to better understand the cultures, needs and concerns of LGBTQ older adults and to navigate the variety of issues surrounding this population.
SAGECare is a division of SAGE, the country's oldest and largest non-profit organization dedicated to improving the lives of LGBTQ older adults. The organization's accreditation process involved an in-person training geared toward Concord Park's team of managers, along with a training module for their frontline associates. The program trained Concord Park staff in best practices for creating a network of support for LGBTQ older adults. Throughout the process, participants were educated on the unique experiences of aging members of the LGBTQ community. Completing this training and certification process is part of the Assisted Living and Memory Support Community's commitment to fostering a welcoming, inclusive and accepting environment for all of its residents.
"We have always strived to make everyone feel welcome and accepted at our community, but SAGECare's training and support helped us go deeper," shared Natasha Heimrath, Concord Park's Executive Director. "It's important to understand the unique experiences that LGBTQ older adults have faced, and why they may be hesitant to open up or accept supportive services. We are excited to now put this perspective into practice."
It is estimated that there are currently around 3 million LGBTQ older adults in the U.S, and that number is expected to grow to around 7 million by 2030 (SAGECare). In completing this credential, Concord Park aims to further enhance the quality of life of its LGBTQ community members by ensuring that they feel fully accepted for who they are.
To learn more about SAGECare, visit their website.