Discover the Concord Park Difference
Make Yourself at Home at Concord Park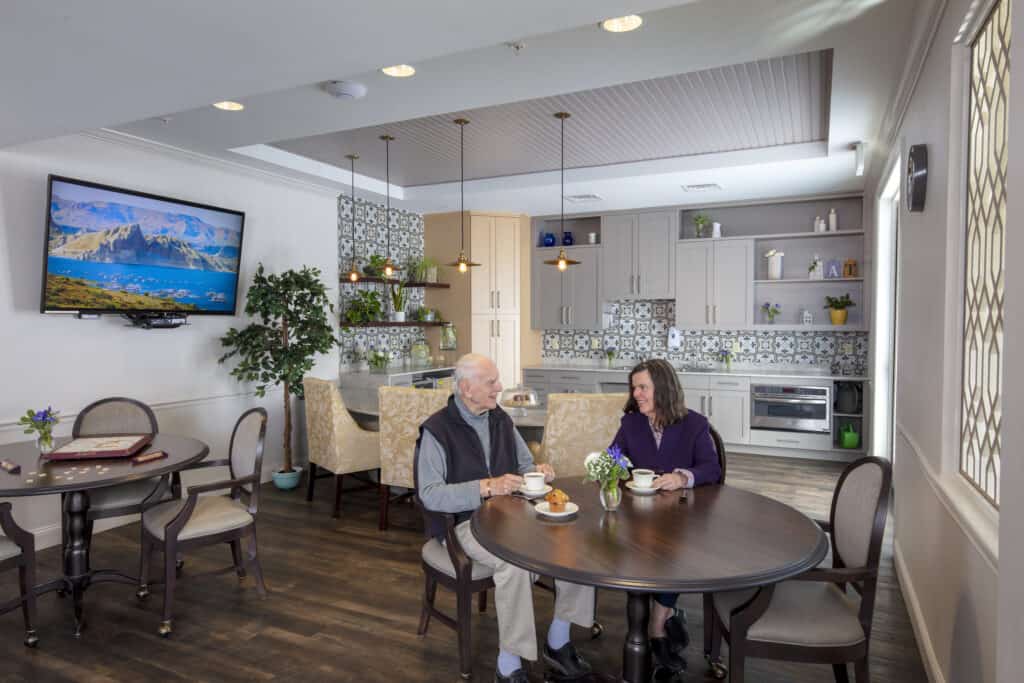 ---
Concord Park residents may choose from a private studio, one bedroom apartment or companion suite, which they may decorate and furnish to their liking. While they maintain their own apartment home, residents have access to cozy community spaces like the Cafe, Theater and Community Room, as well as supportive services should they require them now or in the future.
In addition to snug indoor spaces, Concord Park is fortunate to be surrounded by breathtaking natural beauty. Seated within six wild and scenic acres along the Assabet River, all sides of our community overlook meadows and conservation land, which you can take in from our back patio and gazebo.
Dining at Concord Park
---
At Concord Park, our restaurant style dining rooms are so inviting to residents and are designed to promote conversation and relationship building. Well-trained staff are taught to work with residents to ease any stress and make meal time the best time. Our Executive Chef is dedicated to creating a daily menu filled with the dishes our residents want to eat, all featuring fresh, healthy ingredients, sourced locally in-season.
We also offer selections from our Brain Healthy Cooking Program, an award-winning food and nutrition initiative that is based on the Mediterranean diet, which has been scientifically proven to boost overall brain health and cognitive function. Eating a diet rich in brain-healthy foods, (like fish, seafood, vegetables, fruits, nuts, olive oil and whole grains), can benefit people at every age by reducing inflammation, regulating blood sugar, and promoting heart health. Recent research shows it may have an effect on delaying symptoms of Alzheimer's. These meals are available to residents and staff!
Brain Healthy Cooking is not only about food, but also about having an overall active lifestyle. That is why we offer a daily program calendar full of enriching, engaging activities meant to encourage residents to try something new.
The pursuit of knowledge & enrichment is at the core of our EnrichedLIFE program.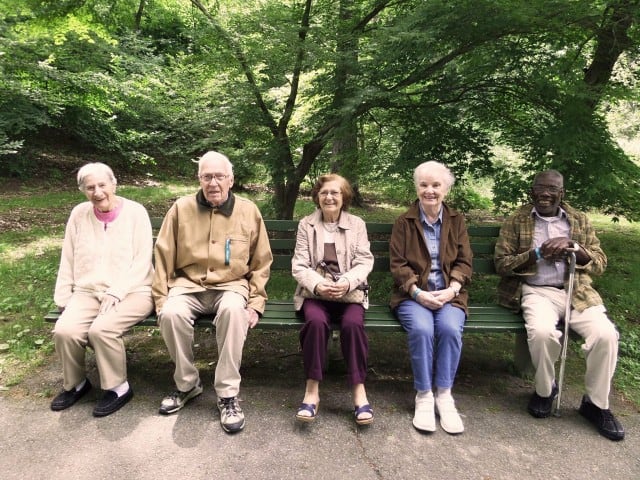 ---
Our research-based lifelong learning, arts, music, fitness and nutrition programs are designed to help seniors stay sharp, social and independent. We hope you'll find something of interest on our daily calendar from pursuing your hobbies to trying something new, but we also know that sometimes the best days revolve around simple pleasures like taking a walk outdoors, visiting with family, or reading snuggled up in a blanket. How you decide to spend your day is your choice.
Popular programs include:
Walking Club
Music appreciation & live performances
Discovery Learning Series
Exercise classes including Tai Chi, yoga, weights & stretching
Discover Compass Memory Support at Concord Park
---
Memory loss and Alzheimer's disease are unpredictable, but your loved one's care shouldn't be. In our specially-designed, secure Compass Memory Support NeighborhoodⓇ individuals with memory loss feel less anxiety and confusion, maintain their existing skills, and truly enjoy an enhanced quality of life.
For residents in our Compass Neighborhood, each day is filled with specialized daily programming is overseen by our Director of Compass Programming who is also a Certified Dementia Practitioner. Our specially trained staff conducts research-based, therapeutic programs which promote a familiar daily routine and a sense of purpose through social interaction, cognitive stimulation and exercise. We take a holistic approach, focusing beyond physical care needs to support individuals emotionally, spiritually, socially and intellectually. Current research shows that social interventions, such as Compass, may be as effective in treating the symptoms of dementia as current medications, and that diet, exercise and socialization play a major role in the prevention and management of Alzheimer's or dementia causing diseases.
Our Compass Neighborhood is affiliated with the Boston University Alzheimer's Disease Center. Learn what this means for our families >>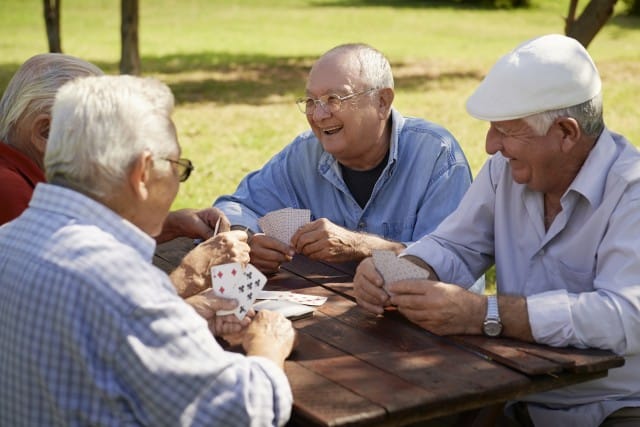 Is a Short Term or Trial Stay at Concord Park right for your family?
EASE THE TRANSITION AFTER A HOSPITALIZATION
Reimbursement constraints usually control when seniors are discharged from a hospital, even if home isn't the best option. A respite stay at an Assisted Living community can help lessen the gap and reduce the chance of re-hospitalization.
GIVE A FAMILY CAREGIVER A BREAK
Our respite stay program means our team can take over caring for your loved one while you take time to recharge — Whether this be for business travel, vacation or when a caregiver simply requires a break. 
"TEST OUT" THE EXPERIENCE OF A NEW HOME
If your loved one is resistant to move in to assisted living, feel free to utilize our "no-strings," no minimum stay trial run to see if our community is the Right Fit before making the commitment to move.
Concord Park offers short-term respite stays in both our Assisted Living and our Compass Memory Support Neighborhoods, pending availability. We have a unique "no minimum stay" policy which gives each family flexibility no matter their situation. Call us at 978.369.4728 to learn more.