What Do People Think of Armbrook Village in Westfield?
The Power of Connection
Although I shouldn't be, I am continually amazed at the power of human connection to alleviate or mitigate some of the challenging behaviors associated with Alzheimer's disease and other cognitive impairments. I have seen this over and over again in our Connected LIFE program, where a small peer group, comprised of residents with Mild Cognitive Impairment or related memory loss, is encouraged to be social, engage in failure-free activities, and enjoy graded, personalized therapeutic programming. My most recent "eye opening moment" came, as they usually do, when I was not expecting it!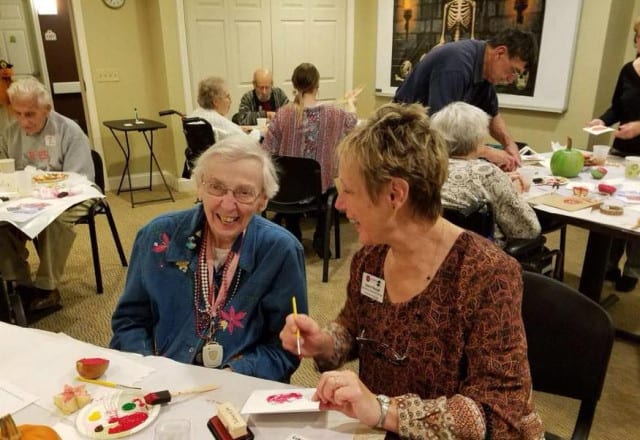 Peace of Mind
"Our Home at Armbrook Village offers so much more than friends, independence and a beautiful view of the mountains; it gives peace of mind for us and our family."
George & Bella Bolduc, Chicopee, MA
Residents at Armbrook Village
---
Praise for Armbrook's ConnectedLIFE Program
"Thank you and the staff for everything you did to enrich my mom's life. You and your program were just what she needed to fill the void after my dad's passing. She was interested, active, creative, had a sense of belonging and was so very social. God bless you!! Keep up the amazing work."
Pattie Kopatz, Mother of Lillian
"Caring and Supportive Environment"
---
Armbrook Village is more than a beautiful building complex consisting of a collection of well-designed, nicely appointed apartment units along with wonderful cuisine and fun social activities. It is a caring and supportive environment comprised of a compassionate, skilled and knowledgeable professional staff. My parents were one of the first residents of Armbrook upon first opening its doors in 2013. They have lived in the independent living section of the building and gradually transitioned to the assisted living area as they aged. My mother now resides in the Compass Memory Support facility. Armbrook's aging in place concept has helped my parents to effectively navigate the challenging stages of life and to maintain a high quality of life.
Marc Hanks, Armbrook Family Member