BUSINESS WEST | August 18, 2014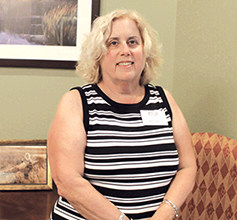 By JAMES PALEOLOGOPOULOS
Read the article on the BusinessWest Website
The Continuum of Care
In the sleepy northwest corner of Westfield lies a winding path marked by a sign that reads "Armbrook Village: A Senior Living Residence." But that description only tells part of the story.
This modern, 109,000-square-foot structure, which looks like a recently finished condominium complex with its siding, flowerbeds, and bleach-white balconies, is part of a growing wave of senior-living communities that offers older citizens a variety of options along the continuum of aging, its 122 units encompassing independent living, assisted living, and what's known as Compass Memory Support Neighborhood, which allows residents with memory loss to receive constant treatment and supervision in a secure setting.
The result is an interactive community in the best sense of the word, said Beth Cardillo, executive director.
"We're not going to get any bigger; we were built to operate at a very manageable size," she told BusinessWest, adding that the facility, which serves seniors from age 60 to 100, is nearly three-quarters full. "We know everyone in the building. We know everybody's daughter and son, we know everybody's grandkids, and we work hard to provide a community atmosphere."
Armbrook Village was built by East Longmeadow developer Michael McCarthy, along with other investors, in 2012 after he saw the benefits his late mother, Jean, experienced at a senior-living residence in Springfield. However, without any background in elder care or independent-living arrangements, he hired Senior Living Residences (SLR) — a Boston-based company specializing in senior housing operations with a special emphasis on dementia and Alzheimer's disease — to manage the facility.
Managing 12 communities from Boston to Milford, SLR is affiliated with Boston University's Alzheimer's Disease Center, and seven of the chain's communities feature Compass Memory Support Neighborhoods. With most of the residences located in Eastern Mass., Armbrook Village is the only SLR community on the Bay State's western region, but it operates with the same goal as all the company's properties — providing cost-effective care to all residents, whether they're living independently and going to work each day or need assistance getting up in the morning.
Modern Living
For those living in the studio, one-bedroom, or two-bedroom apartments, Armbrook provides perks that allow residents to be totally on their own, "but not completely," Cardillo said. Those perks include services ranging from emergency pull cords in each unit to transportation to doctor's appointments.
The facility also makes it a point of encouraging its residents to get out into the community by providing transportation to restaurants, symphonies, and museums, among other destinations throughout the year. Independent-living residents also have access to three meals a day, prepared with an emphasis on 'brain-healthy' foods, as part of Armbrook's affiliation with BU's Alzheimer's Disease Center.
According to Cardillo, SLR emphasizes such a diet throughout its communities, with a number of menu items built around a Mediterranean diet of fish, whole grains, and other foods that are both nutrient-rich and contain omega-3 fatty acids, a fat believed to help reduce the risks of dementia.
"Our statistics show it's good for the brain," she said. "A lot of olive oil, a lot of vegetables, a lot of fish, a lot of chicken — all studies point to certain herbs and foods not curing dementia, but adding to the mix of prevention."
Independent-living residents enjoy other amenities as well, with apartments equipped with kitchens, washers and dryers, and walk-in showers. The apartments are designed to be "desirable," said Cardillo, breaking away from the past industry standard of small, converted rooms.
"Years ago, I think, when assisted living became popular, they were taking the place of older buildings, maybe a converted school, a converted monastery. So the rooms were a lot smaller," she told BusinessWest. "But now, when families are starting to look for apartments for their elders, they're thinking, 'just because Mom is 90 doesn't mean she has to live in a small apartment.'"
Meanwhile, assisted-living residents receive help with many activities of daily living. Among those services are assistance with getting up in the morning, showering, getting dressed, as well as help with taking medication. Three meals a day are provided.
"Our assisted living is almost the same, only a little bit smaller, because they don't need a full kitchen because we're supplying the meals," she explained.
Then there's the Compass Memory Support Neighborhood, which features everything found in assisted living, plus some additional services. A smaller neighborhood with 25 units, it's "the world in a smaller place" for residents with certain memory-related disorders, Cardillo said. "It's a world that's easier to negotiate, and it's filled with activities all day long."
The rooms were designed to be compact, she continued, since a number of residents there have a hard time finding their way around in bigger spaces. At the same time, the neighborhood's activity rooms were designed to be larger, allowing residents to conduct activities and ensure that they are not isolating themselves in their own rooms, but staying involved in the community.
"We know that, with dementia, structure and socialization are key," Cardillo said. Part of that socialization includes bringing out residents for art, photography, and adult learning activities, said Brenda Lopes, director of the Compass Memory Support Neighborhood.
"Here at Armbrook, we do a lot of adult learning, including a program called Reconnections," Lopes said. "In it, we bring the memory-support residents back into the past with, say, imagery of Frank Sinatra and the Rat Pack or from World War II, and it works to help them connect the past with the future."
That, along with a number of individualized programs and daily exercise, are among the routines that not only keep the residents active but also work against the effects of dementia and Alzheimer's.
To enhance their care of residents, SLR involves staff in joint training operations through Boston University and, in Armbrook's case, participation in a graduate study program with American International College's occupational-therapy students. Part of a research project conducted by the students, the goal is to have residents in the Memory Care wing increase their daily activities through interacting with music as the AIC students observe its effectiveness and results.
Making Westfield Dementia-friendly
As part of its efforts to improve life for people with memory issues, Armbrook has launched a campaign to make Westfield one of the first 'dementia-friendly' communities on the East Coast.
Specifically, inspired by the story of Watertown, Wis. and its own drive to make the town friendlier and safer to those who are experiencing dementia, Cardillo set out earlier this year to coordinate with businesses and departments across Westfield to create an environment where, if an individual with memory loss were to wander into a restaurant or other establishment, staff would know the right steps to handle the situation.
"We're trying to have more people learn more about dementia, so that, say, if an 85-year-old woman walks into the bank and is very confused, the tellers will be able to know what to do, properly identifying any confusion or memory issues," Cardillo said. "I would like to do trainings throughout the community and here at Armbrook to teach people a little more about dementia, so that they can embrace it and not be scared by it and have the resources to know what to do."
In addition to local banks, grocery stores, and other places of business, Cardillo wants to include the city's police and fire officials, who sometimes find themselves dealing with people, either on the phone or at a scene, with some form of memory loss.
Already, a "virtual dementia tour" has begun involving the Fire Department, said Cardillo, a short (10-15 minutes) explanation of the symptoms of dementia. Hoping to include Noble Hospital and the local senior center, among other organizations, she plans to produce a PowerPoint in the near future as she continues to meet with officials such as the mayor and Chamber of Commerce.
"It's about giving people the tools they need in order to know what to do when they come across somebody with dementia," she said — tools her team at Armbrook Village provide to residents every day.