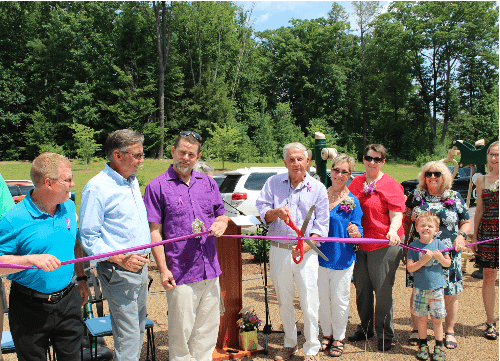 WESTFIELD, MA— Armbrook Village Assisted Living and Memory Support recently unveiled Western MA's first intergenerational playground, whose emotional origin story tugged at the heartstrings of all those who attended the ribbon cutting ceremony. Clinical psychologist Dr. John (Jack) Baker II, the man who started it all, has deep ties to the Armbrook community.
Dr. Baker's late wife, Lynne Purple Baker, was a cherished member of the Armbrook Village family who sadly passed away in April 2020. Following her passing, Dr. Baker and his sons started the non-profit Fit Play Parks, Inc. The organization's goal is to fund and build interactive spaces for seniors to practice movement and enhance their quality of life, beginning with Lynne's Playground.
When Lynne arrived at Armbrook, Director of Compass Programming Susan O'Donnell had just started as the community's Program Specialist. "Lynne was our 'ambassador.' If we were having a difficult time getting a resident out of their room, we would take Lynne along with us. Her sunny and loving personality would convince the resident to join us," recalled O'Donnell. 
"It will be here forever, just like our memories of Lynne," said Dr. Baker. "She would be proud to know that we built a space for seniors to get the exercise they need, while spending quality time with the younger generations. While there might not be monkey bars, like in your typical kids' playground, there's something here for everyone to enjoy."
Lynne's Playground is FitPlay's inaugural project, but the organization is dedicated to funding, building and supporting outdoor interactive, physical environments that encourage movement, play and joy at other facilities.
To learn more about the Bakers' story and the purpose behind Lynne's Playground, visit these links: