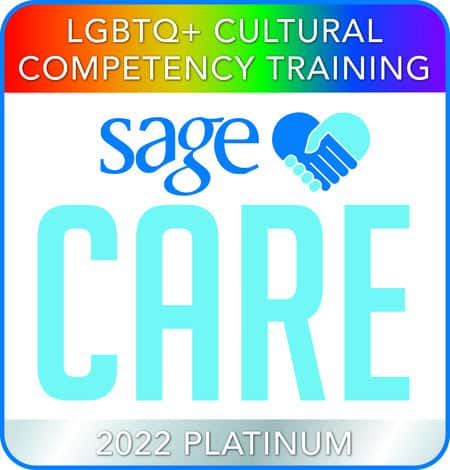 The Cambridge Homes , an Independent and Assisted Living Community, recently reached the Platinum accreditation level from SAGECare, highlighting the community's commitment to inclusivity for the aging LGBTQ population. SAGECare is an organization that provides LGBTQ Cultural Competency training and consulting to service providers. Earning a credential through SAGECare demonstrates that staff have been trained to enhance service to acknowledge and celebrate LGBTQ community members.

SAGECare's accreditation process involved an in-person training geared toward The Cambridge Homes' team of managers, along with a training module for their frontline associates. The community has trained 100% of their associates, surpassing the Platinum credential standard of 80%. Throughout the credentialing process, staff were trained in best practices to support LGBTQ members of the community. Participants continue to educate themselves on the unique issues LGBTQ older adults face today, and the community strives to maintain an accepting environment for all. The welcoming atmosphere that the SAGECare training creates has strengthened ties within the community, and promotes the celebration of both residents' associates' unique identities.

Teresa Burns, Executive Director of The Cambridge Homes, is eager to put SAGECare's training into practice. "Our number one value is promoting resident quality of life, followed by valuing our associates, and this education will serve us in building an environment of acceptance and inclusivity for all community members. We want everyone in The Cambridge Homes family to feel celebrated for who they are, and SAGECare will help us stay true to this goal."

Together, The Cambridge Homes and SAGECare will continue their partnership to serve seniors with the utmost sensitivity and integrity, helping to celebrate each community member's unique and important perspective. Upon completion of this credential, The Cambridge Homes aims to further enhance the quality of life of its LGBTQ community members by ensuring that they feel fully accepted.
To learn more about SAGECare, visit their website.