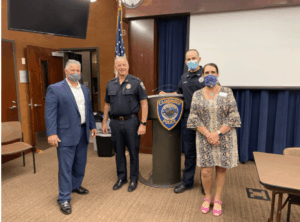 CAMBRIDGE, MA – Cambridge's first responders have been working tirelessly since the onset of Covid-19 to keep people safe and deliver life-saving medical attention, and The Cambridge Homes and Neville Place wanted to recognize their hard work in a meaningful way. The two Assisted Living communities recently donated lunches to three city fire stations, as well as the local police as a special thank you for keeping their residents and the greater community safe.
In an effort to support the small business community, The Cambridge Homes and Neville Place purchased the lunches from local favorites All Star Sandwich Bar and Richie's Slush Co.
The communities also had slush delivered to the nursing staff at Mt. Auburn Hospital.
"With so many local restaurants struggling due to the pandemic, we wanted to support two great small businesses while also providing a nice meal to our first responders and the nursing team at Mt. Auburn," said Teresa Burns, Executive Director of The Cambridge Homes.
"It's really a win-win," said Alan Lappas, Executive Director of Neville Place. "We get to show our appreciation for our hardworking first responders and healthcare workers and the small business community that makes Cambridge unique."
For more information on Neville Place, which offers Assisted Living and a secure Compass Memory Support Neighborhood®, visit www.NevillePlace.com. For more information on The Cambridge Homes, offering Independent and Assisted Living options, visit www.TheCambridgeHomes.org. Read more in the Cambridge Chronicle & TAB.