ConnectedLIFE for Early Memory Loss at Concord Park
ConnectedLIFE is now at Concord Park! Concord Park has launched a new programming option called ConnectedLIFE, which is specifically designed to help residents who are starting to experience early signs of memory loss (sometimes diagnosed as MCI or Mild Cognitive Impairment) continue to thrive in group settings.
When is ConnectedLIFE the Right Fit?
Developed in 2016 by Concord Park's management company Senior Living Residences, the ConnectedLIFE program is tailor-made for assisted living residents who are experiencing early symptoms of cognitive decline, Alzheimer's or dementia but do not yet need a secure environment. Appropriate residents are often not thriving in general assisted living programming, including:
Self-isolating or withdrawing from activities they used to enjoy
Finding it difficult to participate in large group programming
Having trouble paying attention for extended periods of time
Finding difficulty maintaining social relationships
The ConnectedLIFE program meets residents where they're at in a small, intimate, failure-free environment alongside other residents who understand what they're going through.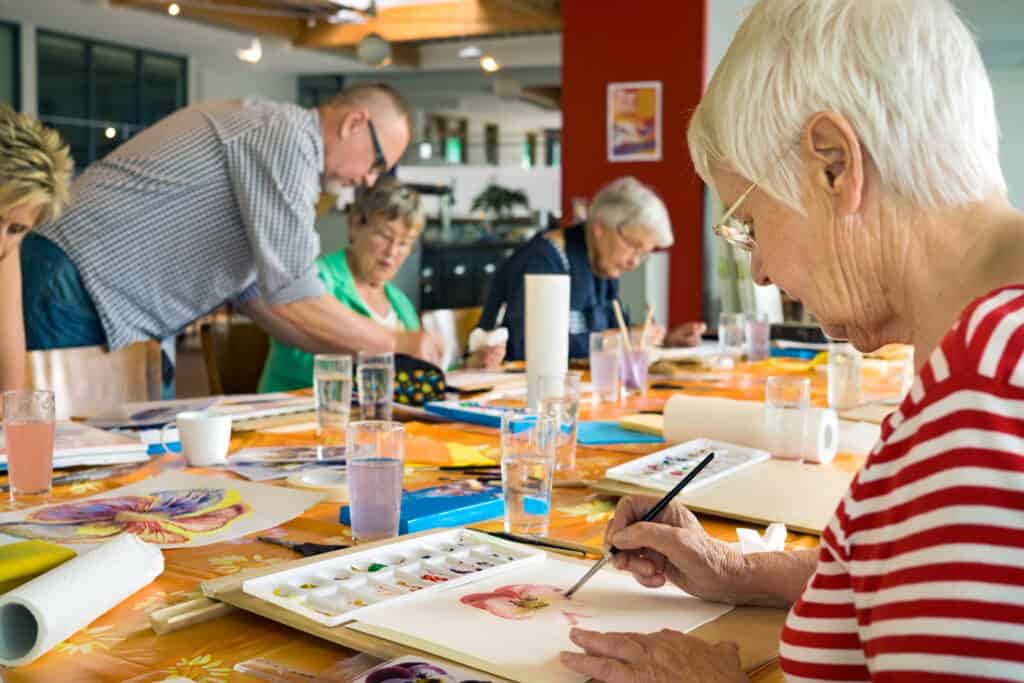 Concord Park's ConnectedLIFE is unlike any other assisted living program in our area!
3 Benefits of ConnectedLIFE
Peer Group Setting – An intimate group of residents experiencing similar cognitive impairments provides reassurance and meaningful opportunities for socialization.
Innovative Programming – Our weekly structured schedule of innovative programs immerses residents in enriching activities throughout the day. From our evidence-based Discovery Learning Series featuring exciting curriculum-based courses focused on residents' interests and personal histories to cultural field trips, specialized art and music programs and fitness classes, residents have ample opportunities to rediscover what they enjoy doing and create new connections.
Additional Support While Maintaining Independence – Residents in the ConnectedLIFE program benefit from having a dedicated full-time Program Specialist monitoring their emotional and physical well-being, as well as gentle reminders at mealtimes and to attend programs.
Do you know someone who would benefit from the ConnectedLIFE program? Contact Maryellen King to learn more: 978-369-4728 (call or text) or email mking@slr-usa.com.

Want to see our community in person? Book your tour today!
What's a Typical Day Like?
---
Morning:
A current events chat over coffee in the café
Mid-morning strength training, part of daily ConnectedMovement programming
Guest lecture on Norman Rockwell to enhance the week's Discovery Learning Series curriculum
Afternoon:
Trip to a local art museum
Computer training through our local high school student mentoring program
Vibrant music history discussion exploring notable artists of the big band era
Evening:
Dinner featuring sweet & spicy salmon, a Brain Healthy Cooking signature recipe
Live piano concert
Daily self-reflection through goals & inspiration discussion, part of ConnectedSelf programming