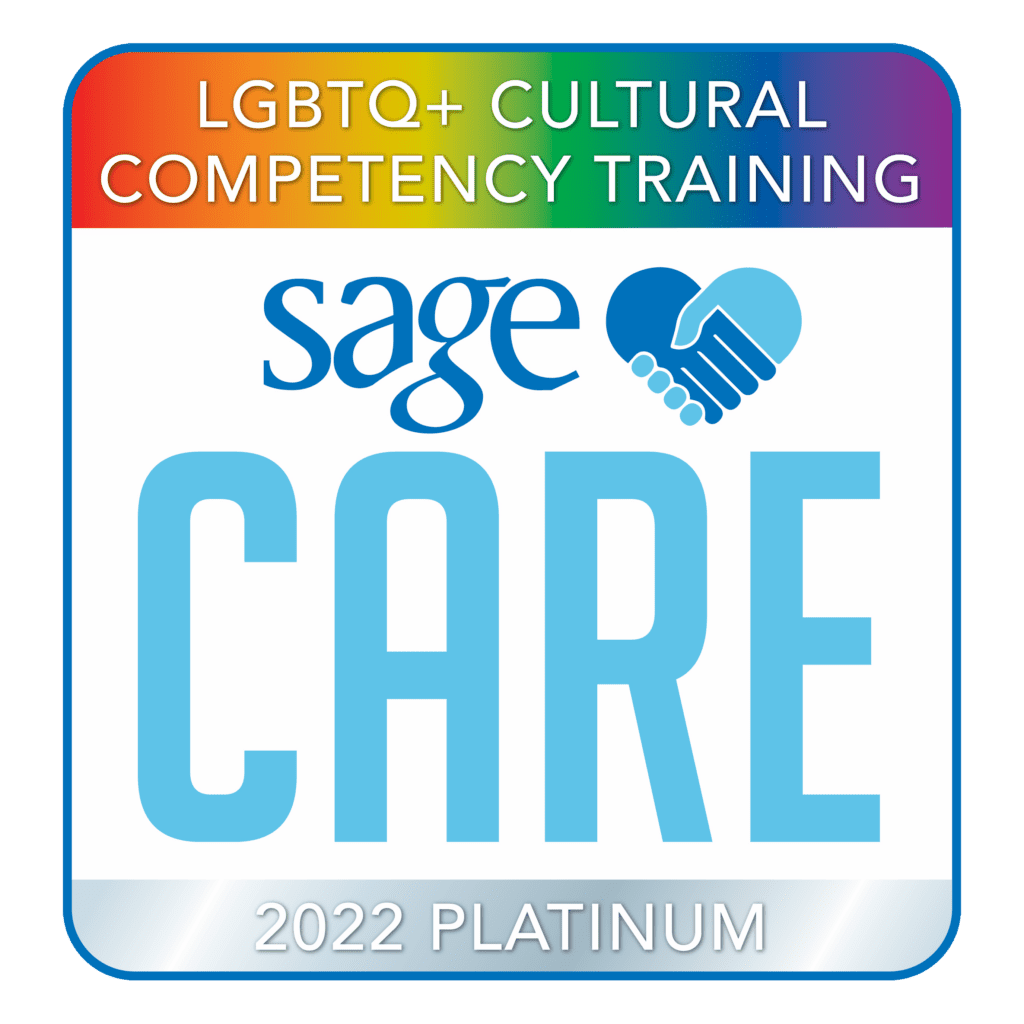 Cornerstone at Hampton Assisted Living recently reached a milestone in their commitment to creating a more inclusive and welcoming community for their LGBTQ residents. The community achieved Platinum level accreditation from SAGECare, an organization that provides LGBTQ Cultural Competency training and consulting to service providers. Equipped with new skills and perspectives, Cornerstone at Hampton staff are eager to promote best practices for supporting LGBTQ residents' unique cultures and needs.
SAGE's (Services & Advocacy for GLTB Elders) accreditation process entailed an in-person training for Cornerstone's team of managers, accompanied by a training module for frontline associates. In order to reach the Platinum accreditation standard, over 80% of staff completed the training, a remarkable achievement for the community. Cornerstone is the first service provider in Hampton, NH to achieve this, and the 2nd in the state of New Hampshire.
Throughout the training, Cornerstone at Hampton staff learned about the unique experiences and issues that LGBTQ older adults face. Staff members were also educated in best practices for creating a network of support for LGBTQ residents, while working to maintain a positive atmosphere that celebrates everyone's unique identities.
It is estimated that there are currently around 3 million LGBTQ older adults in the U.S, and that number is expected to grow to around 7 million by 2030 (SAGECare). In completing this credential, Cornerstone at Hampton aims to welcome any LGBTQ residents, families, associates or community partners who walk through their door with open arms.
###
Cornerstone at Hampton, Hampton's newest senior community, offers local seniors unique and innovative living options designed to help them age in place, including assisted living and a state-of-the-art Compass Memory Support Neighborhood® for those with Alzheimer's disease and related dementia. You can find more information and schedule a tour online at www.CornerstoneHampton.com.
If you would like to learn more about SAGECare, visit their website at www.sageusa.care.