A Supportive Community with the Comforts of Home
At Cornerstone, we know what seniors and their families are looking for. Our residents enjoy the independence and privacy of their own apartment while benefiting from living within a larger community offering security, companionship, social and wellness activities, and a wide array of supportive services located right outside their door. How you spend your days will be your choice. When you are in the mood to have fun, learn something new and get moving, we offer many choices! We also provide transportation to get you where you want to go.
Innovative Programming for Seniors
We know that age does not impact one's desire to learn new things and make new memories. Our EnrichedLIFE Program offers a wide array of experiences and adventures to give each day something to look forward to. From adult education classes and yoga to Skyping with your grandkids and outdoor gardening, the possibilities are endless.
Pursue hobbies you love or try something completely new! Popular programs include:
Cooking demonstrations in the High Tide Café
Movies in the Barn Theater
Art, fitness & education classes
Live musical performances
Discovery Learning Series
A Therapeutic Neighborhood for those with Memory Loss
Imagine your Mom or Dad living in a safe nurturing environment where he or she is not only well cared for but where the symptoms of his or mild memory loss or Alzheimer's disease are truly being treated. This is what sets us apart from other assisted living companies - we offer research-driven treatment for the symptoms of Alzheimer's disease in a comfortable dignified residential setting.
Our specially-designed Compass Memory Support Neighborhood® features two Reconnections Learning Classrooms, two libraries and a Country Kitchen. We also have two light-filled Compass Dining Rooms, each offering an open floor plan, fireplace, natural wood octagonal shaped ceiling, and cove lighting, and leading to secure outdoor courtyards with screened porches, planting beds and patio with tables and umbrellas for outdoor dining. Our secure outdoor spaces are always accessible and also feature a picturesque potting shed, meandering walking path, and covered open-air porches.
All of our Compass Neighborhood Apartments are fully accessible without any fussy adapting. Choose from studio, one-bedroom or companion suite apartments.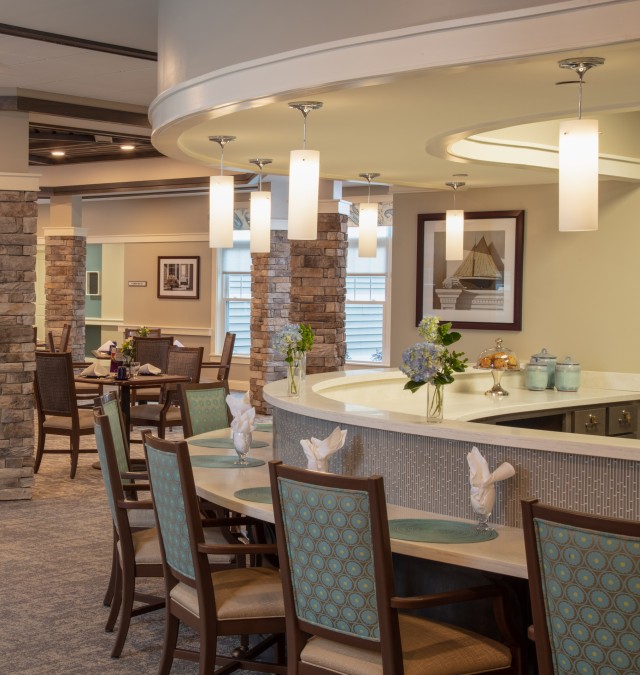 All-Day Dining Inspired by the Mediterranean
Eat whenever you want, our dining room is always open! Enjoy the company of friends for a fine-dining experience featuring a variety of menu selections including taste-tested recipes from our award-winning Brain Healthy Cooking program. Have a dish you can't live without? Chef Jean loves getting to know our residents favorite foods and incorporating them into our menus for everyone to try. Feedback and ideas are always welcome!
"At Cornerstone, we pride ourselves on weaving the Mediterranean diet into monthly Grab Your Passport! adventures, where we virtually visit a different country each month through cuisine, music and entertainment. One of our cooks, El Sayed Khashaba, has traveled the world and brings character and authenticity to these Passport events. We have also won several greater community awards like the Newburyport Chowder Fest and love to host Hampton Area Chamber of Commerce events, where our "It's all Greek to Me" signature cocktail is always huge hit!" -- Jean, Director of Dining Experience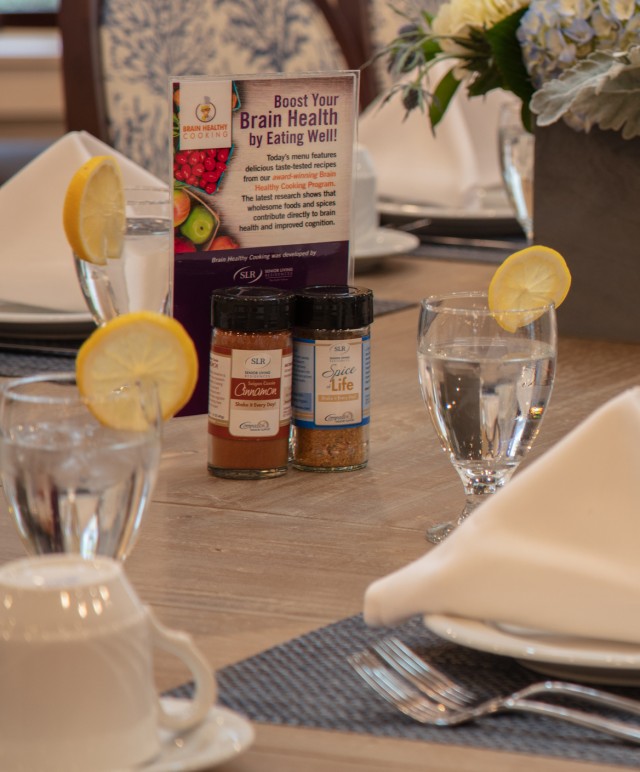 Making the Greater Hampton Area Dementia Friendly
The time for a better understanding of dementia is now and we are committed to doing our part to help combat the social stigma and misconceptions surrounding Alzheimer's and related dementia; It's a personal and professional passion for us.
At Cornerstone at Hampton, we have been working with local organizations, elder care professionals, police and fire departments and local businesses, providing free, meaningful workshops to discuss and demonstrate the inherent challenges of living with dementia. We believe imparting this basic understanding builds empathy and goes a long way toward making communities more dementia friendly. When the general public can recognize the signs of dementia and practice better communication techniques it can help those affected feel valued, comfortable and connected to their communities.
We happily take our training program on the road, so if interested please reach out!