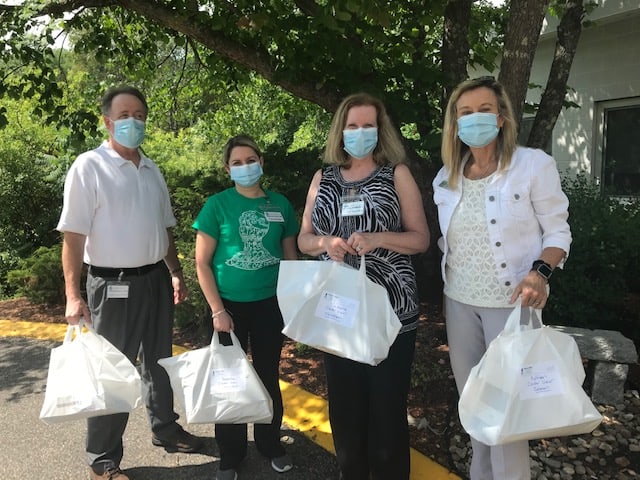 On July 28th, Methuen Village Assisted Living delivered meals to staff at several local Skilled Nursing and Rehab Centers, complete with salmon or chicken, garbanzo bean salad, fruit salad and a vegan brownie for dessert. They also received "Spice of Life", a custom blend of several different spices, fruits and vegetables that can act as a healthy salt substitute.
"At Methuen Village, we are lucky to have so many strong relationships with our neighboring partners," says Tracy Valletti, Executive Director. "It may be hard for some to find the time to cook nutritious meals for themselves and their families right now, so we wanted to help ease that burden in any way we could."
Methuen Village's Dash N' Dine menu pulled from the community's Brain Healthy Cooking program, an award-winning nutrition program that brings taste-tested, Mediterranean inspired menu options to their residents daily. The program features nutrient-packed ingredients like leafy greens, nuts, whole grains, fresh fish and other foods that have been scientifically proven to boost brain and whole body health.
Learn more at www.MethuenVillage.com. Find brain healthy tips and recipes at www.BrainHealthyCooking.com.