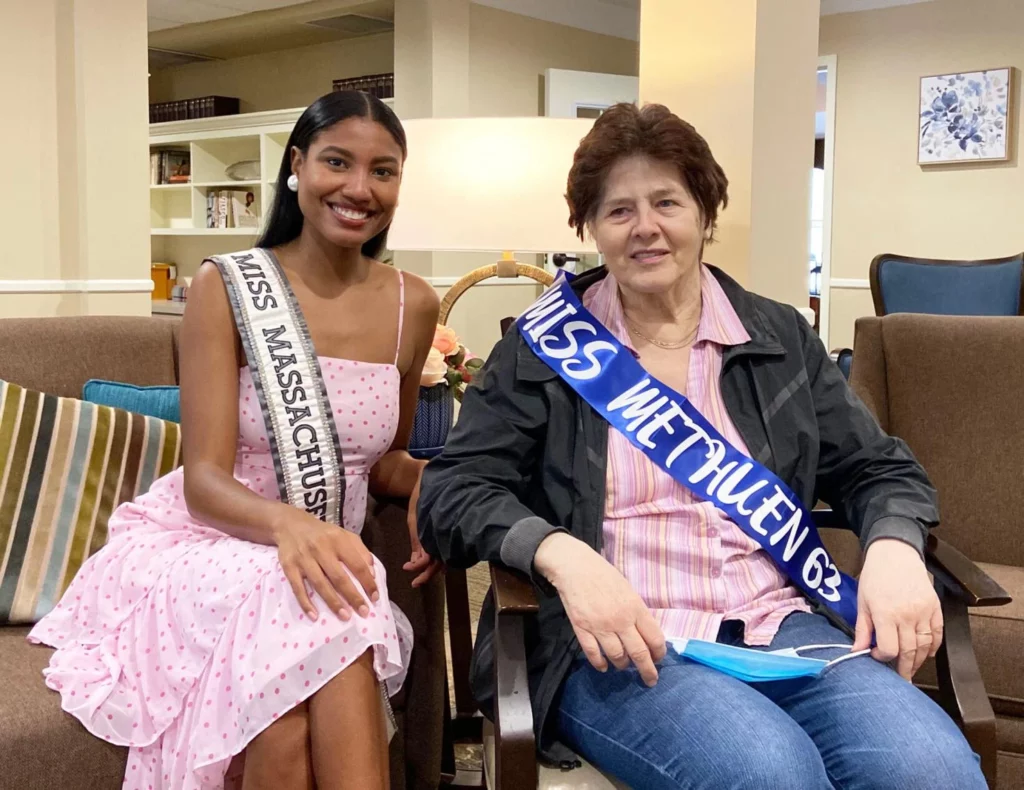 METHUEN, MA — Skarlet Ramirez, the current titleholder of Miss Massachusetts, recently had the opportunity to meet Frances Patti, the winner of the 1963 Miss Methuen Beauty Pageant.
The two women described their ascents to stardom during their meeting on July 13.
Patti, who now resides at Methuen Village Assisted Living, said she was one of 11 contestants chosen to compete for the title.
"I won the pageant and became Miss Methuen," she said. "It was quite a big deal back then. It was fun, I did a lot of modeling."
To win, Patti said she was a character in the three-act play, The White Cliffs of Dover.
"I didn't have stage fright," she said. "Either you have it or you don't."
In addition to being crowned Miss Methuen, Patti was one of five runners-up for Miss Massachusetts.
She is a graduate of Tenney High School and also attended Bradford Junior College.
Ramirez said she appreciated the chance to meet Patti.
"I feel honored, it's so special," she said.
Growing up in the Dominican Republic, Ramirez became interested in beauty pageants as she watched Amelia Vega, also of the Dominican Republic, be crowned Miss Universe in 2003. However, Ramirez said the idea of competing in a pageant herself was still far-fetched at the time.
"I didn't think it would be possible for me," she said. "I know what it's like to be in an environment where you're not allowed to dream big."
In 2008, Ramirez moved to the United States and enrolled at Methuen High School. After graduating with honors, she went on to Fitchburg State University and graduated in 2016 with a Bachelor's Degree in communications.
After college, she moved to Lawrence and created her own YouTube channel, "SkarletwiththeK." In addition to working as an imaging assistant at Parexel, Ramirez also began volunteering at the Lazarus House Thrift Store during the COVID-19 pandemic.
Ramirez made her first run for Miss Massachusetts in 2020 and finished in the Top 16. She competed again the following year and was the runner-up to winner Sarah DeSouza of Dracut.
"I was getting used to failing," said Ramirez, adding that her father urged her to stop competing.
However, she refused to give up and took a third run for Miss Massachusetts earlier this year.
"When I start something, I like to finish it," she said.
The third time was a charm when Ramirez topped 76 other contestants to be crowned Miss Massachusetts.
"It was amazing," she said. "It was everything."
Ramirez will now represent Massachusetts in the Miss USA pageant in September. The winner of Miss USA will then compete for the ultimate title of Miss Universe.
Since 1952, only two Massachusetts residents have been named Miss USA.
Susie Castillo of Lawrence won in 2003 and Shawnae Jebbia of Mansfield won in 1998. Ellen Smith of Germantown, Kentucky, is the current titleholder of Miss USA.
Eight recipients of Miss USA have gone on to become Miss Universe during the past 70 years — none of them were from Massachusetts. Olivia Culpo of Cranston, Rhone Island, was the last American to win in 2012. The title is currently held by Harnaaz Sandhu of India.