Methuen Village is the First Senior Community in Methuen, Massachusetts to Partner with MyndVR, Implementing Cutting-Edge Virtual Reality Solutions on Site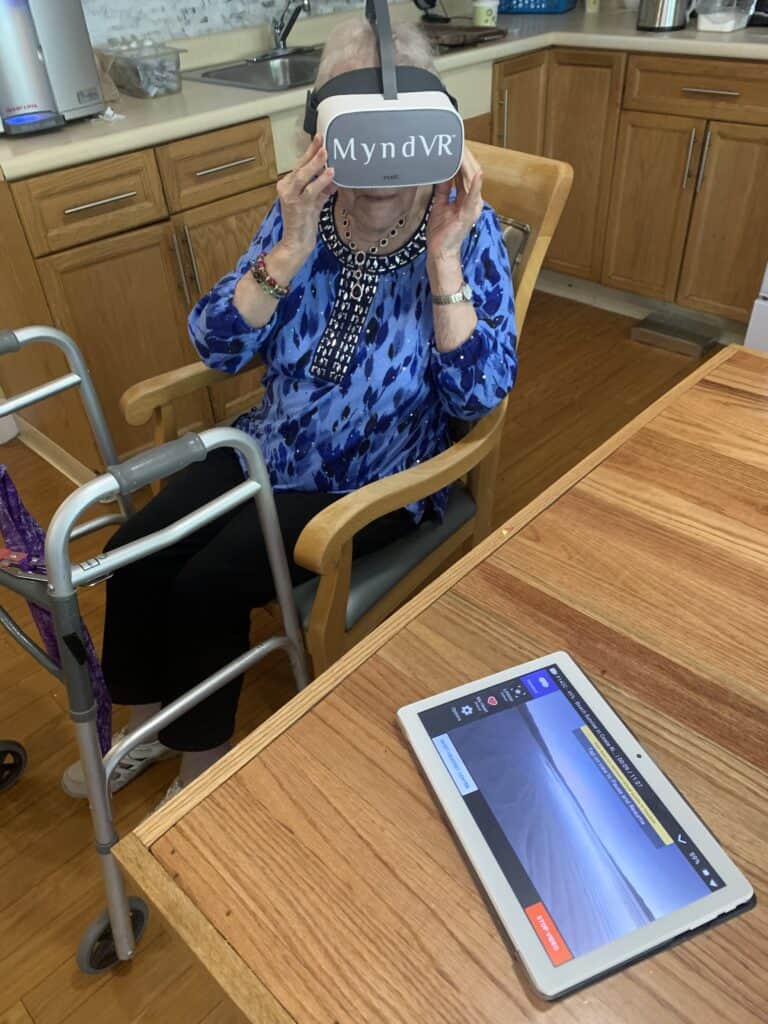 November 5th, 2020 — Methuen, MA — Have you ever wanted to walk the streets of Pisa, Italy or ride down Route 66 without leaving your house? Residents of Methuen Village at Riverwalk Park are doing all that and more thanks to their new MyndVR virtual reality headsets.
Methuen Village, a community offering local seniors service-enriched assisted living and a secure neighborhood for those with Alzheimer's disease and related dementias, has partnered with MyndVR, the nation's leading provider of virtual reality solutions for senior care communities. Together, they will be the first community to offer virtual reality solutions to seniors in Methuen, Massachusetts.
"At Methuen Village our primary goal is to improve our resident's quality of life," said Tracy Valletti, Executive Director at Methuen Village. "We believe that someone's desire or ability to learn and experience new things does not deteriorate with age or cognitive impairment. We are excited at what MyndVR will be able to do for our residents, giving them the ability to unlock memories and experience those moments that brought joy to their youth as well as participate in an advanced use of technology that is fun! We are thrilled to be partnering with their team."
"We are so excited to deliver this amazing, life-enriching program to residents at Methuen Village," said Chris Brickler, CEO of MyndVR. "It's important that the AR/VR industry steps up in this isolation crisis, and we are excited to be able to deliver MyndVR to communities in need across the country."
For seniors facing smaller group programming and restrictions due to COVID-19, MyndVR provides an exciting way to "break out" of their four walls and experience the world that is otherwise outside of their grasp. The company's vast library of content includes travel, music, art, adventure, nature, and reminiscence therapies, and has the ability to lift spirits, allowing seniors to fully experience the benefits of virtual reality. Since receiving the headsets in May, Methuen Village residents have been able to virtually deep sea dive, visit famous museums, and explore some of the world's top tourist attractions.
About Methuen Village
Methuen Village offers local seniors service-enriched Assisted Living and a secure residential Compass Memory Support Neighborhood for those with Alzheimer's disease and related dementias. The community features gracious accommodations, numerous amenities, and expansive grounds with views of the Spicket River. Residents receive individualized attention and catered assistance from a professional and caring staff. Supportive services are tailored for individual needs, including personal care, medication management, delicious meals featuring selections from a Brain Healthy Cooking menu, lifelong learning programs, cultural enrichment, wellness, and more!
Learn more at https://www.MethuenVillage.com.
About MyndVR
MyndVR is a national health and wellness company providing virtual reality solutions to senior living communities, home health care agencies and directly to older adult consumers. The company is intelligently curating a vast library of VR content and creating innovative genres of recreational, prescriptive and on-demand content. MyndVR offers a promising future of cognitive health and wellness for the dynamic aging population. MyndVR uses a compassionate approach and understands the best way to deliver the right content to adults 55-plus. Pilots have demonstrated the positive impacts on older adults.MyndVR is committed to conducting clinical trials in order to measure the therapeutic effect of VR. These trials will also measure the health care outcomes, including cognitive, visual, emotional and physical effects on older adults. For more, visit http://www.myndvr.com.