Assisted Living at SLR Communities
Helping Seniors Stay Sharp, Social and Independent
The Assisted Living option at Senior Living Residences' communities is perfect for seniors who want independence, maintenance-free living, an active social life, and a helping hand with some daily needs such as personal care and managing medications. Picture this… your own apartment furnished just the way you want it, with all the privacy you want, with wellness services, a restaurant, intellectually stimulating programs, and private van transportation right outside your door!
You might be relieved to know that if you move into one of our communities you will retain your independence, make your own decisions concerning your care, meet new friends, and continue to pursue your personal interests and hobbies. Your adult children might be relieved to not have to worry about your safety and emotional and physical well-being!
An Engaging Lifestyle With Two Programming Options
At Senior Living Residences' Assisted Living communities we offer you ample opportunities every day to socialize, engage in learning, express yourself in art, and enjoy lively entertainment. From adult education to art and music to outdoor pursuits, the possibilities are endless. Each of our buildings was designed to enhance our programs and encourage social gatherings, and our programming directors develop robust calendars to appeal to a variety of individual interests and hobbies.
We also know that sometimes the best days revolve around simple pleasures like taking a walk outdoors, visiting with family, reading snuggled up in a blanket, or pursuing some quality "me" time in a yoga or a slow stretch class, quietly planting in our community garden, or getting pampered at one of our full-service salons. Although the possibilities are endless at Senior Living Residences' Assisted Living communities, how you decide to spend your day is your choice.
Because we want to engage each and every resident in the pursuit of your individual interests, at your comfort level with people you enjoy being with, we offer two distinct programs – our signature EnrichedLIFE experiences and adventures is available in all of our Assisted Living communities, while our new ConnectedLIFE program, designed for assisted living residents with early memory loss, is available in some communities. Please read more about these programs to see which one is best for you and use this chart to find an SLR community offering the new ConnectedLIFE program.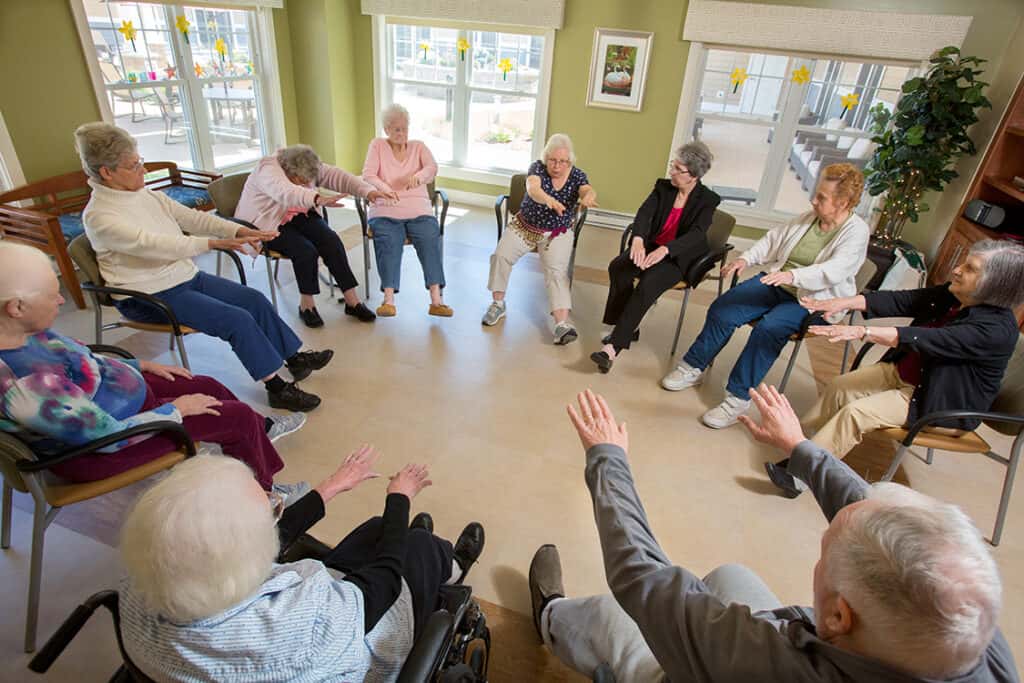 The Right Combination Of Services
At each Senior Living Residences Assisted Living community, the Resident Care Director meets with every new resident and his or her family to develop an individualized care plan which details personal care and medication management services. This process will ensure a smooth and healthy transition to your new home. We follow up within 30 days to make sure we are meeting your specific needs after you first move in and we continue to regularly review your services plan to determine appropriate care and services if your needs change over time.
Our focus is on providing care while preserving your dignity, encouraging your continued independence, and best enabling freedom of choice. We also value family input and stay closely in touch with adult children.
Paying for Assisted Living
Senior Living Residences communities are monthly rentals offering a range of accommodations and care packages to meet your individual needs and preferences. Specific monthly rates are based on the apartment type and size, as well as the service options you choose.
Unlike many other assisted living communities, our care package prices are all-inclusive, ensuring that there will be no surprises on your monthly bill.
We know that you may have concerns about finances. We have answers. Please visit the Paying for Assisted Living section of our website for an overview of the financial options available to help you pay for assisted living costs.