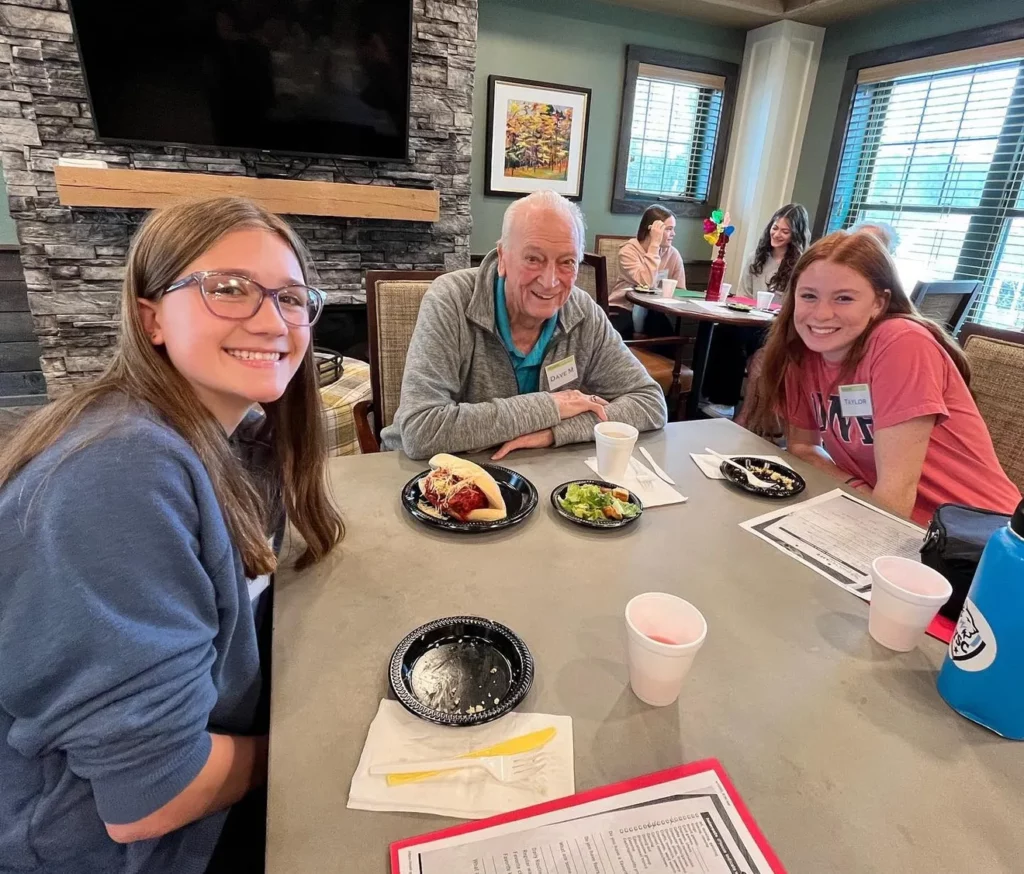 HAMPTON — What do you get when you combine young Warriors and old wisdom? A remarkable collection of stories that celebrate the lives and experiences of senior residents at Cornerstone at Hampton.
Students from Winnacunnet High School and residents at Cornerstone at Hampton recently gathered on the assisted living facility's back patio for a special presentation. The event showcased the final products from "Wisdom Warriors," a joint initiative that paired high school students with residents at Cornerstone to document stories from the residents' pasts.
Cornerstone's EnrichedLIFE Director Courtney Sott worked with faculty at Winnacunnet to organize and launch the project. Over several months, Winnacunnet student council members interviewed Cornerstone residents to document stories and memories from throughout their lives, which were then published with photos in hardcover books.
"Not knowing what to expect, this has turned into something bigger and better than any of us could have imagined," said Sott, who was emotional as she spoke about the impact this partnership has had on all parties involved. "It was really wonderful to see the relationships that blossomed between these kids and our residents, and between our staff and the Winnacunnet staff. Looking forward to next year, we've already planned to do this again."
A few students from Winnacunnet also shared how the experience impacted them.
"It was really fun connecting with a generation above us, hearing about what they did and comparing that to our own lives," said student Sully Duffy.
"This was actually a really nice experience to learn about how they lived and hear memories from their life that we didn't have," said student Kailtin Merrill. "Also just building a relationship with someone we had never met before."
"It was fun meeting someone we normally wouldn't talk to," added student Lucy Gelbsetin. We were able to find similarities, and you could understand them even though they grew up in a different time period."
Winnacunnet High School English teacher Gabrielle Borden said the project was a "phenomenal experience" for the students.
"Stories have been shared, hugs have been exchanged, and tears have been shed," said Borden. "As a teacher for 18 years, this is hands down one of the most meaningful experiences I have ever been a part of with my students. It was an honor to partner with Cornerstone and have this idea come to fruition. I am excited to continue our partnership."