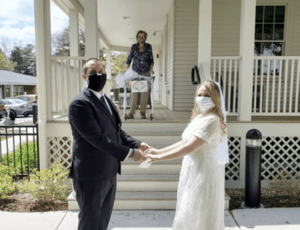 MALDEN, MA – It is a picture perfect day at Forestdale Park Senior Living in Malden as Beverly Convery sits on the farmer's porch waiting for a very special visit. Just up the road, at Forestdale Community Church, her granddaughter Emily is getting married to husband Rob, and the couple are planning to stop by Forestdale Park to bring the celebration to Beverly.
Like so many other brides who had to change their wedding plans due to the coronavirus pandemic, Emily had to postpone her planned ceremony and reception, but she made the decision to get married on their original wedding date for one very important reason: Beverly.
"I couldn't imagine my wedding day without my Nani," Emily said of the decision to bring her celebration to Forestdale Park. "While we had to bump the big party to 2021, we wanted to have a special moment here with her."
When Beverly finally sees her granddaughter in a wedding dress, she is overcome with joy. Staff at Forestdale helps the proud grandmother decorate the community's farmer's porch with tulle, and the family spends their time together singing, laughing, and dancing – all from a safe distance. While it wasn't the reception that every bride dreams of, for this family it was perfect.
"In the six years Rob and I have been together, Nani has been a constant support for us," said Emily. "You're always laughing when you're with her, and to have her with us today just brought so much joy to our wedding day."
"It's not everyday that you get to have a newly married couple stop in for a visit at your community," said Executive Director Terri Guenard. "I don't think any of us will ever forget this special moment."
For more information on Forestdale Park Senior Living, visit www.ForestdalePark.com. See photos in the Malden Advocate.