Welcome to Nashoba Park Assisted Living, Ayer, MA
Nashoba Park Assisted Living in Ayer, MA is a historic renovation of the former Ayer Community Hospital. It is nestled in the heart of the Historic District on the hilltop just above downtown Ayer. Nashoba Park offers local seniors gracious accommodations, exciting EnrichedLIFE experiences and adventures, award-winning dining and a full range of supportive services and many amenities at reasonable monthly rates. Residents have their choice of private studio and one-bedroom apartments and enjoy a variety of beautifully furnished community areas, including a spacious landscaped courtyard and patio.
Nashoba Park Assisted Living Community is a Volunteers of America Massachusetts Senior Community, professionally managed by Senior Living Residences of Braintree, MA, a trusted name in senior housing and care with families and eldercare professionals since 1990.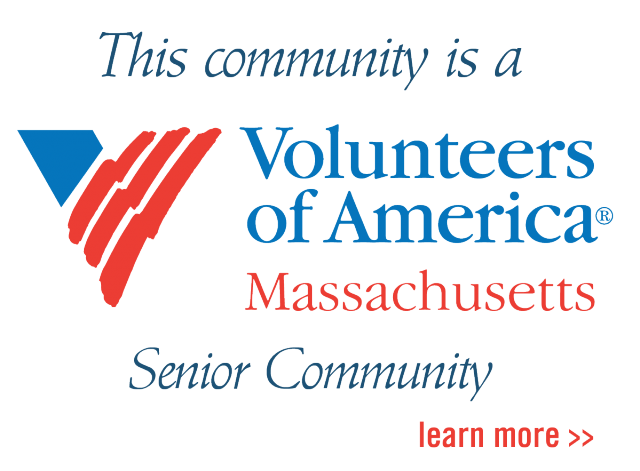 Community News
Nashoba Park helps community understand dementia
The staff at the Garvin Center for Geriatric Psychiatry at Nashoba Valley Medical Center in Ayer recently participated in "Understanding Dementia in the Real World," an interactive and experiential dementia awareness and communication training presented by both Concord Park Senior Living in Concord and Nashoba Park Assisted Living Ayer. Read More at The Concord Journal Website 
April Events
Folk Musician Darlene Bailey Performs
April 14th  |  2:00pm
Join us for a coffee house-style performance by singer and guitarist Darlene Bailey! Darlene's work has been compared to the likes of Emmylou Harris, Janis Ian, and Bonnie Raitt.
Springtime Songs with Heather Marie
April 21st  |  2:00pm
Talented vocalist Heather Marie presents her "Springtime Songs" program. Come and sing along with this versatile artist who prides herself on being able to convey the emotions behind each song she sings!
Silent Film Screening
April 28th  |  2:00pm
Richard Hughes will provide piano accompaniment to a screening of "Show People," a silent film from 1927 starring Marion Davies, the former girlfriend of William Randolph Hearst and a former Rockette. Join us for this trip down Memory Lane!
Tour Our Assisted Living Community
"We invite you to drop in for a tour! Take a stroll through our community and grounds, meet our associates and residents, enjoy a delicious meal, and have all of your questions answered."
-- Stephanie Burton, Executive Director