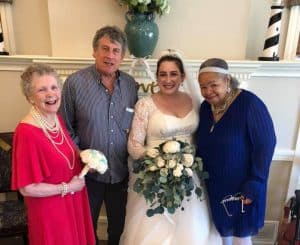 Pictured above from left to right: Michelle Peters, resident at Compass and Bridesmaid, Paul Schaffrath, resident at Compass and Groomsman, Caitlyn Stoffle, and Janice Andrews, resident and Maid of Honor
SOUTH BOSTON — On April 25th, Compass on the Bay held a re-enactment wedding for their Executive Director, Caitlyn Stoffle. Caitlyn officially married Shane Stoffle on February 23rd, but residents at the Memory Support Assisted Living Community wanted to be included in this milestone and decided to give Caitlyn an entire second wedding.
Residents and staff each played a role in the special day: Shari Sweeney, Program Director, served as the wedding planner; Rafael Moreno, Director of Building & Grounds officiated the wedding; the community's dining staff catered the event; Joanne Clark, a resident at Compass, provided entertainment on the piano, and additional residents like Michelle Peters, Nasrin Massah, George Milliken, Paul Schaffrath and Janice Andrews were in the "wedding party". See more photos at www.facebook.com/CompassOnTheBay.
Read coverage in South Boston Online >>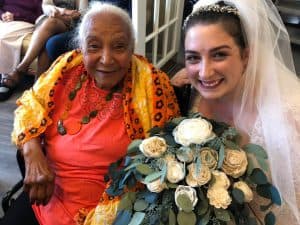 Pictured above: Dr. Margaret Lawrence (left), resident at Compass, and Caitlyn Stoffle (right), Executive Director