We asked our associates...

What inspired you to work with seniors who have memory loss?
---
I began my journey back in 2000 when I took a receptionist position at an Assisted Living community. Didn't take me very long to realize that working with seniors was what I was meant to do.
- Lindsay Nelson, Assistant Executive Director
---
When my grandmother was passing we helped and supported her care. After that I was driven to want to take care of people. I became a CNA and worked with the senior population. There was one gentleman I took care of that I bonded with and took pride in caring for. He had late stage dementia and behaviors. I was always able to redirect him in a way that was helpful. What amazed me was that every day brought something different, but wonderful experiences. I went home after a shift one day and said, "Yep, I'm where I'm supposed to be doing what makes me happy and I'm good at it." I enrolled in nursing school and I have worked with the population ever since.
- Katie Fornier, Resident Care Director
My parents, aunts, and uncles always treated my Nanas with the utmost love, support, and respect. This did not go unnoticed by me. This is when I first began to realize that I truly had a passion for being around older adults. When my great Uncle Louie, was diagnosed with Alzheimer's disease all I knew about Alzheimer's was that it involved memory loss. I thought nothing of it, not knowing there was much more to it. I was at the end of my freshman year of college when my father told me that Uncle Louie's Alzheimer's had progressed. For most of that summer, I researched Alzheimer's disease and its effects on the brain and body. By the time I entered my sophomore year of college I changed my major from Business to Psychology.
- Shari Sweeney, Program Director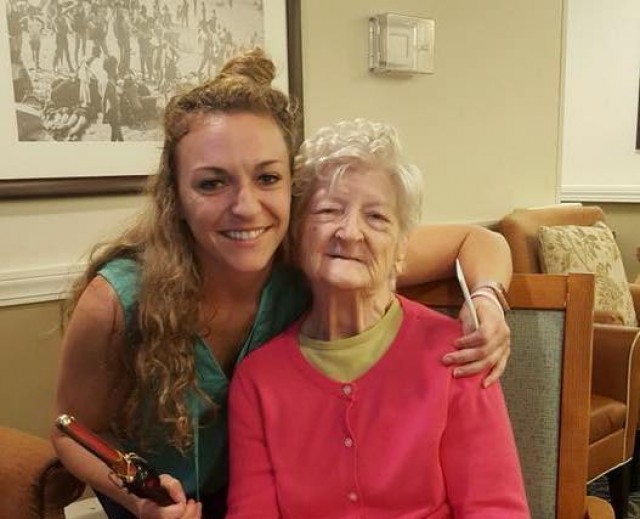 My inspiration to work in memory loss with seniors was my dad, who had Parkinson's.
- Ken McCluskey, Director of Dining Experience