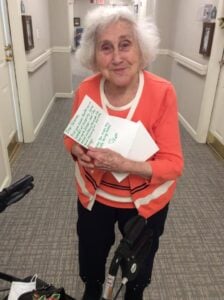 BOSTON, MA – With Assisted Living communities across Massachusetts restricting visitors, many friends, family members, and even small businesses are using the mail to spread cheer to seniors. At Compass on the Bay in South Boston, residents received a special surprise this month when Hollister Staffing sent each resident a personalized card to read and enjoy.
Each handwritten card was addressed to a resident at the Memory Support Assisted Living community, and filled with touching notes and words of encouragement. For the residents of Compass on the Bay, it was a thoughtful gesture that brought joy – and many smiles.
"We would all be happy to receive a nice handwritten note, but for seniors it means even more," said Jenna Petrenko, Executive Director of Compass on the Bay. "Receiving and reading cards and letters is a really comforting experience for them."
If you would like to send a card or letter to a senior living at Compass on the Bay, please contact Director of Compass Programming Shari Sweeney at ssweeney@compassonthebay.com. To learn more about Compass on the Bay Memory Support Assisted Living, please visit www.CompassontheBay.com. See this story in South Boston Online.