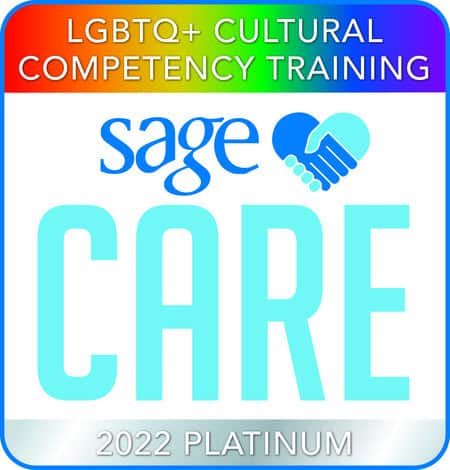 Compass on the Bay is proud to have achieved Platinum accreditation from SAGECare, an organization that provides LGBTQ Cultural Competency training and consulting to service providers. This accreditation marks an important milestone in the Compass' efforts to build a welcoming and inclusive community for all residents and staff.
SAGECare is a division of SAGE, a non-profit organization with a mission to uplift and empower LGBTQ seniors. Earning the Platinum credential means that over 80% of Compass on the Bay's staff underwent training to better understand the cultures, needs and concerns of LGBTQ older adults. Associates came out of the program ready to navigate the variety of challenges facing the aging LGBTQ population, including their potential hesitancy to acquire much-needed support services.
Completing this training solidifies Compass on the Bay's goal of always striving to create a stronger, more compassionate and inclusive community that highlights all unique identities. This culturally aware environment also fosters a positive work environment for associates, who are able to fully express themselves.
"We want to make sure that each resident feels accepted for who they are," says Jenna Petrenko, Compass on the Bay's Executive Director. "In order to do that, we must create a safe space that values each person's identities and experiences, and the education we've received from SAGECare will help us accomplish this goal." Compass on the Bay is excited to continue their partnership with SAGECare and embrace all community members for who they are. It is estimated that there are currently around 3 million LGBTQ older adults in the U.S., and that number is expected to grow to around 7 million by 2030 (SAGECare).
To learn more about SAGECare, visit their website.