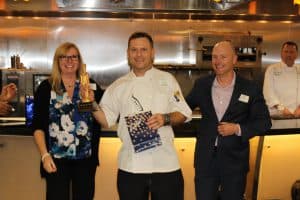 [Pictured above from L to R: Kim Smith, Director of Culinary & Dining Services for Senior Living Residences, Ken McCluskey, Director of Dining Services at Compass on the Bay, and Tadd Clelland, Partner at Senior Living Residences.]
Ken McCluskey, a Quincy resident and Executive Chef at Compass on the Bay Memory Support Assisted Living in South Boston, has been named Senior Living Residences' 2018 Top Chef. Senior Living Residences, the management company for Compass on the Bay and its 15 sister communities across New England, hosts an Annual Chef Cook Off, pitting Executive Chefs of each community against one another in a culinary battle for the coveted title of Top Chef.
This year's theme asked chefs to compete with entrèes influenced by the various countries that are also being featured as part of the assisted living company's "Grab Your Passport!" armchair travel program. McCluskey triumphed over the competition with an Abu Dhabi-inspired shawarma, accompanied by hummus, tahini and muhammara dips, homemade pickled vegetables, and sticky date pudding for dessert.