Originally published by the Boston Globe.
Yolanda Cerullo donned a sparkly tiara and a huge smile as she greeted guests coming to her 100th birthday celebration Saturday afternoon in South Boston.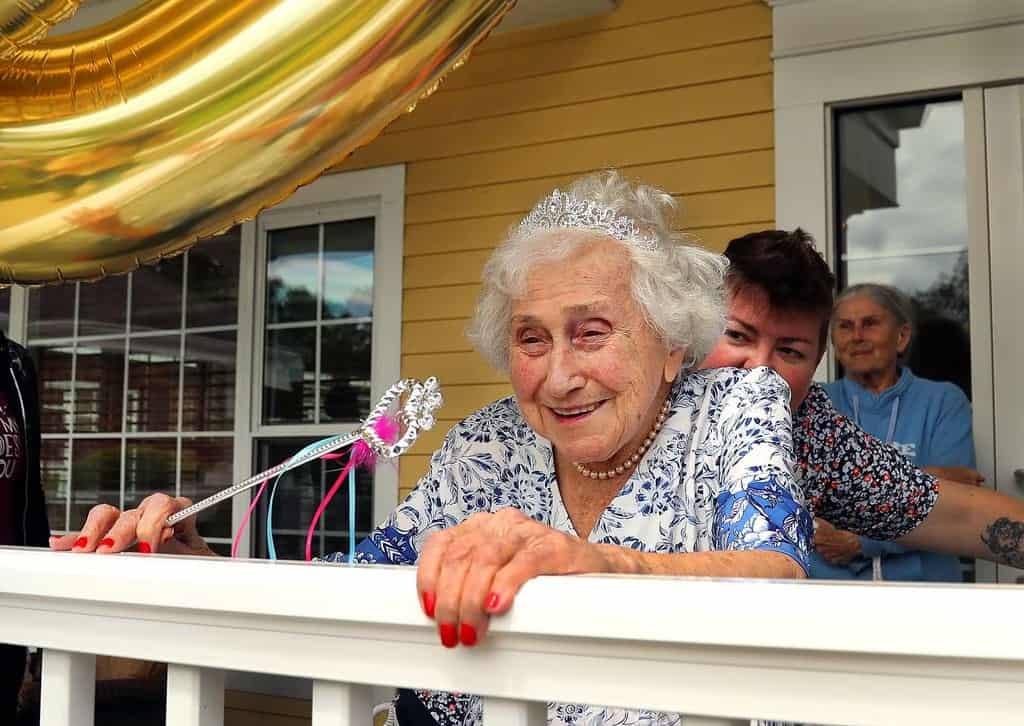 She looked like the Queen of England, several visitors said, as they clamored to take photos with her.
Cerullo grew up in the North End before moving to East Boston, she said. Now a South Boston resident, she celebrated her centennial birthday with a few dozen friends and guests outside the Compass on the Bay Senior Living Community — including Vietnam veterans, local politicians, neighbors, and others in the community.
The community had planned the celebration for Cerullo, who will turn 100 on Aug. 29, in partnership with the Thomas J. Fitzgerald VFW Post 561.
Cerullo served in the US Coast Guard during World War II, a time when women served in separate reserves from men. It wasn't until 1973 when congressional legislation allowed women to serve side-by-side with men in the Coast Guard.
"The World War II Generation is the Greatest Generation," said Vietnam War veteran and #561 post command Thomas McCarthy at the celebration. "And women at that time, they knew that they were just as good as as men."
Cerullo said she remembers traveling across the country from Boston to Los Angeles and back while in the reserves.
"I met people and made new friends," Cerullo said.
The soon-to-be centenarian is following in the footsteps of her brother, Ottavio Cerullo, who died on July 31, 2022, at the age of 101. Ottavio lived with his sister at Compass on the Bay, which held a 100th birthday celebration for him in 2020. But, due to the pandemic, those wanting to congratulate him had to drive by in a motorcade and honk — no in-person encounters.
This year, Cerullo was able to have an up-close and personal celebration with visitors forher special day.
"There was no way we were going to pass up the chance to honor her," said McCarthy, who had helped plan the drive-by for Ottavio.
Several veterans from Post #561 presented a Coast Guard T-shirt to Cerullo, who became emotional when asked what the support and showing of her fellow veterans meant to her. "Everyone has been so nice to me," she said.
People brought flowers, balloons, and hugs to the queen of the day as she sat on the bench. What Cerullo clutched onto most happily was an oversized birthday card presented to her by State Representative David Biele on behalf of the Commonwealth to thank her for her service.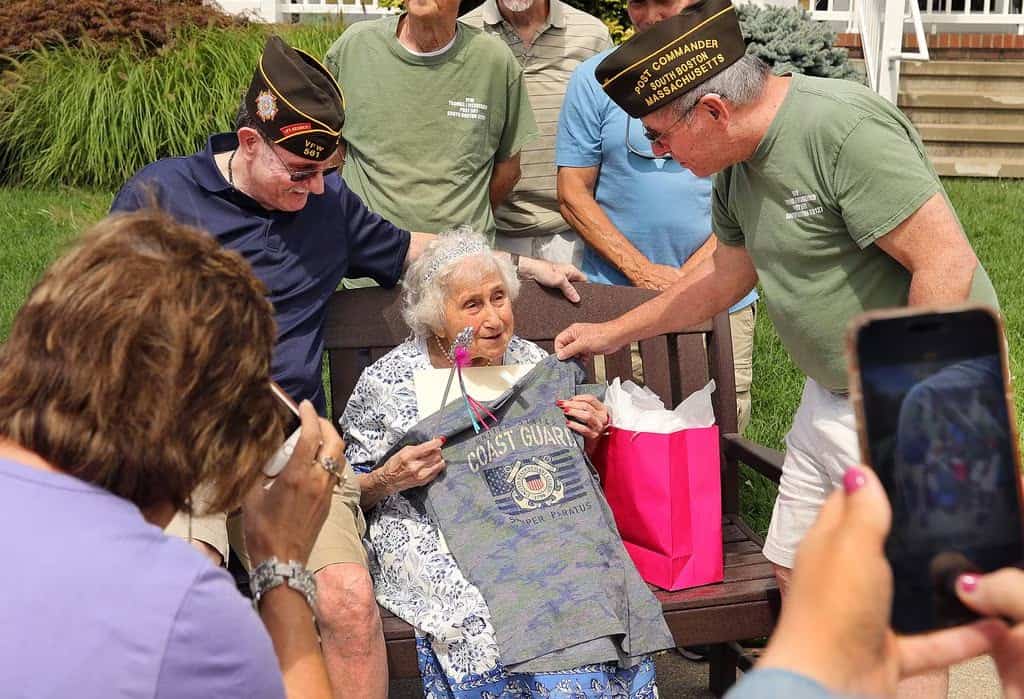 "It's important that we remember and honor those who served on top of an 100th birthday," said Biele, who represents South Boston. "It's just an incredible story and she deserves recognition for all that she's done."
Perhaps the most excited to celebrate Cerullo were the associates at Compass on the Bay, where she is known as a quiet and careful woman.
"I call her Shirley Temple because she is so sweet," said associate Cheryl Caruth, who came to celebrate Cerullo on her day off work. "It is just a pleasure to be here to see that she lives to be 100."
Although they had been popular for years at Compass on the Bay, Cerullo and her brother became well-known in South Boston when the center unveiled an exhibit on veterans who lived there.
"I was incredibly impressed with her story," said Biele, who met Cerullo when the exhibit was unveiled a few years ago.
Cerullo has simple advice after living nearly a hundred years: "Have a smile on your face, and be kind to everybody."
And true to her word, she greeted people Saturday with a soft smile and gentle handshake for nearly an hour.
"We are so proud of you," City Councilor President Ed Flynn told Cerullo while giving her birthday wishes. "You contributed greatly to our country, and we're proud to have you as a neighbor in South Boston."
The celebration culminated with a motorcade in her honor, a round of applause, and chorus of "Happy Birthday."
Cerullo then went inside to eat cake prepared by the dining associates. But if you ask the North End native what her favorite dessert is, her answer is a cannoli.