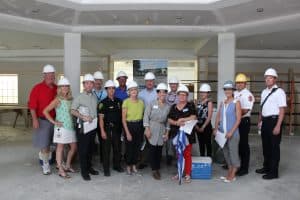 HAMPTON — Local officials recently toured a new assisted living and memory support community, the facility now 70 percent complete and set to open in November.
Members of the town's Board of Selectmen, planning office and police and fire departments, as well as former state Sen. Nancy Stiles, went on a hard hat tour at Cornerstone at Hampton July 17, the site at 238 Exeter Road.
Executive Director Katrina June called Cornerstone "a vital addition to the greater Hampton community."
The assisted living community will contribute to the region's growing economy by adding approximately 100 new full-time and part-time jobs, the company said. The full on-site team will be trained and in place by early November when Cornerstone opens, they said.
The development pulls together a local team of experts in assisted living facilities, according to Cornerstone. The project is being run by Shelter Resources of New Ipswich, designed by Udelsman Architects of New Hampshire and built by a New Hampshire-based construction company, Focus Construction.
Cornerstone is managed by Senior Living Residences of Braintree, Massachusetts, a firm with extensive experience throughout New England that runs 17 other assisted living and memory support communities throughout the area, including Methuen Village in Methuen, Massachusetts. The new facility is projected to have 98 units in two stories and will be Senior Living's first New Hampshire location.